Like fashion, the world of flowers can be influenced by trends. Perhaps my favorite trend in modern floral design is the moving away from formal and structured to a more free-flowing and organic look. These creations embrace the "perfectly imperfect"—a favorite cottage motto of ours—and the naturally beautiful. In her new book, The Flower Fix: Modern Arrangements for a Daily Dose of Nature, flower stylist and author Anna Potter shares her philosophies (and instructions) on arranging flowers in the home, and it's all about celebrating the wild side.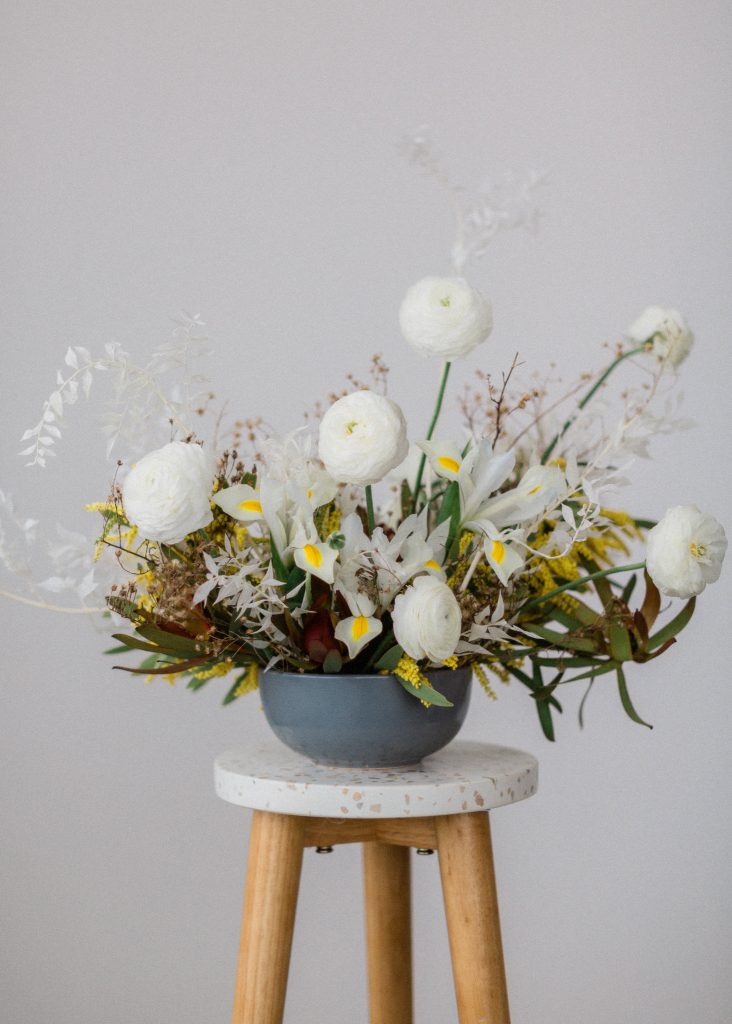 "For me, the ideal mind frame for creating a modern floral design is finding a place somewhere between chaos and order. Where the wild rules and the only thing for you to do is pick out the tones in a room, position a vase or imagine a narrative," she writes.
LET LOOSE
For Anna, flower arranging isn't about getting it just right; it's about seeing what happens. "Allow yourself creative freedom with a loose, romantic design. Be reminded of the joy of unplanned situations and happy accidents that invite us to respond with creative license," she says.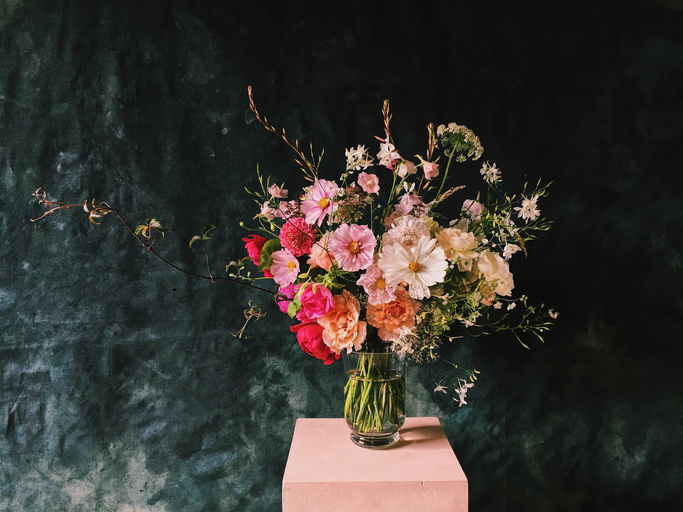 This relaxed approach also means you should consider everything. Nature provides options from branches to grasses and even plants we consider weeds. "Attempting to recreate inside what is naturally occurring outside gives me so much satisfaction—almost as much as using flowers and foliage deemed to be weeds. The term 'weed' implies something unwanted or in the wrong place; a plant that is invasive and grows unplanned," she writes. "[But] in the last few years I've become besotted with roadside weeds, seas of grasses swaying like waves … The persistence and resilient strength of these unloved flowers inspires me deeply. [Arrangements can be about] bringing together a mass of wild, overgrown foliage, branches and blooms with their seasonal garden counterparts to create something of elegance."
FLOWERS AS SELF CARE
Last but not least, working with modern floral design is an exercise in creativity that's good for the soul. "By bringing the wild inside our homes, we invite a different perspective in also. Taking the time to create an arrangement that works with your space and the season is itself an exercise in self-care," Anna says. "We are allowing ourselves time away from everyday concerns. Taking time to immerse in nature and be guided by the natural products we are working with and to let go of our control."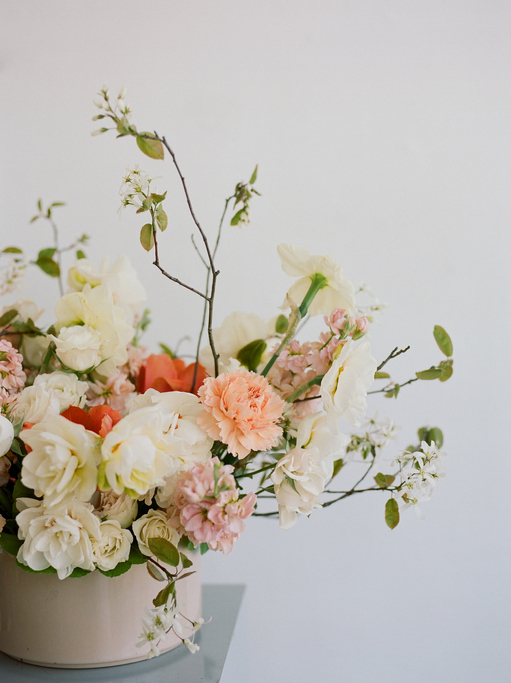 TIPS FOR CREATING MODERN FLORAL DESIGN
1. Use the largest elements first—either the fullest blooms or tallest branches/foliage. Follow the shape the flowers/stems create on their own, filling in the gaps with smaller flowers.
2. The negative space in a design is as important as the filled areas. It makes the difference between wild and organic or forced and manicured.
3. When working with flowers, cut some stems shorter so you can tuck them in closer to the vessels. To create the depth and difference in height that would occur in the natural world.
4. For mixed arrangements, work with one type of flower at a time. so they are evenly dispersed throughout the arrangement and so they help you balance the arrangement as you go.
5. To help support a free-flowing arrangement or one with a variety of heights and lengths you have options. Use a flower frog, or cut and affix chicken wire to your vessel to provide a sturdy framework.
PRO TIP: Refresh drooping or floppy flowers by plunging a freshly cut stem into boiling-hot water before using the flower in a design. This method forces air out of the stem and allows better uptake of water.
Want more simply beautiful ideas? Check out this post on How to Grow and Care for Lilacs. 
Of course, don't forget to follow us on Instagram, Facebook and Pinterest to get your daily dose of cottage inspiration!