I have been collecting Limoges pieces for many years now. After purchasing my first set of plates, collecting them become an obsession. Today, these beautiful treasures can be found at most flea markets, thrift shops and antique markets. For me, these unique pieces are fundamental for creating a table that is feminine, stylish and memorable. I especially love collecting patterns with delicate floral designs. Many of them mix perfectly with modern pieces. The trick to mixing vintage plates with modern designs is to choose items that are similar in color.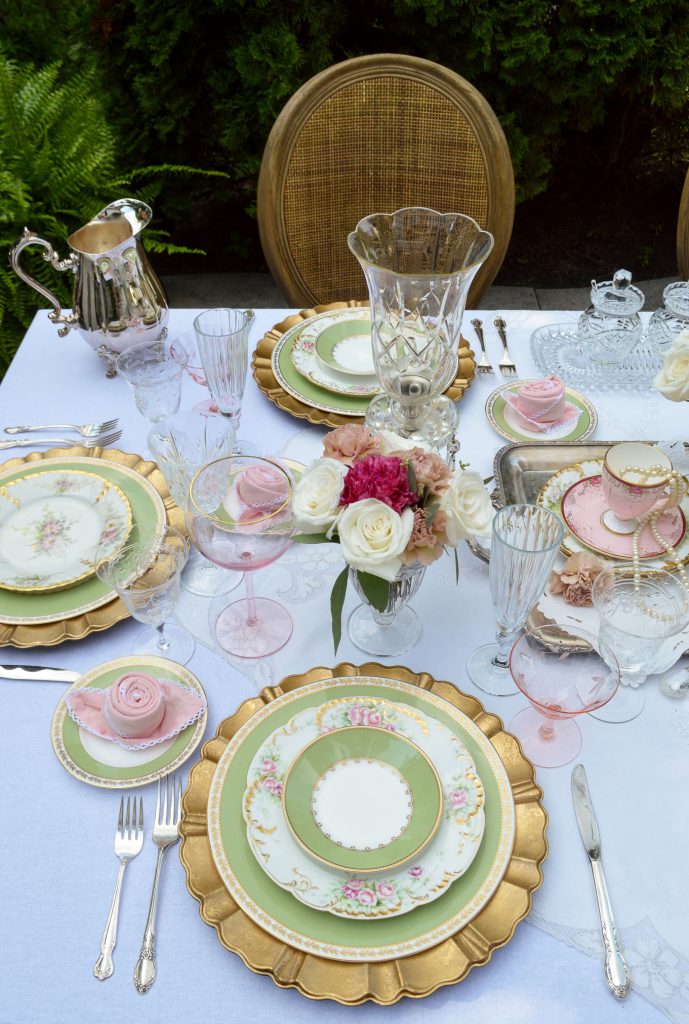 If you are a fan of romantic living and take pleasure in setting a table that makes your guests feel special, then consider using vintage china to set your table. They will add loads of romance and charm. Ready to get this look? Here are my key ingredients:
#1.  Linens
Layer your table with crisp white linens. Vintage tablecloths are a great choice for creating a look that is truly soft and dreamy. You can go simple or slightly elaborate with your tablecloth. And today, you will find an abundance of vintage linens at flea markets and antique shops.
#2.  Vintage Silver-Plate
Contemplate silver-plate. I consider it jewelry for the table.  It adds sparkle and radiance.  You can find all sorts of elegant patterns today. I particularly love the ones with intricate details – and do not be afraid if they are tarnished!! They can be brought back to their original beauty with a little elbow grease.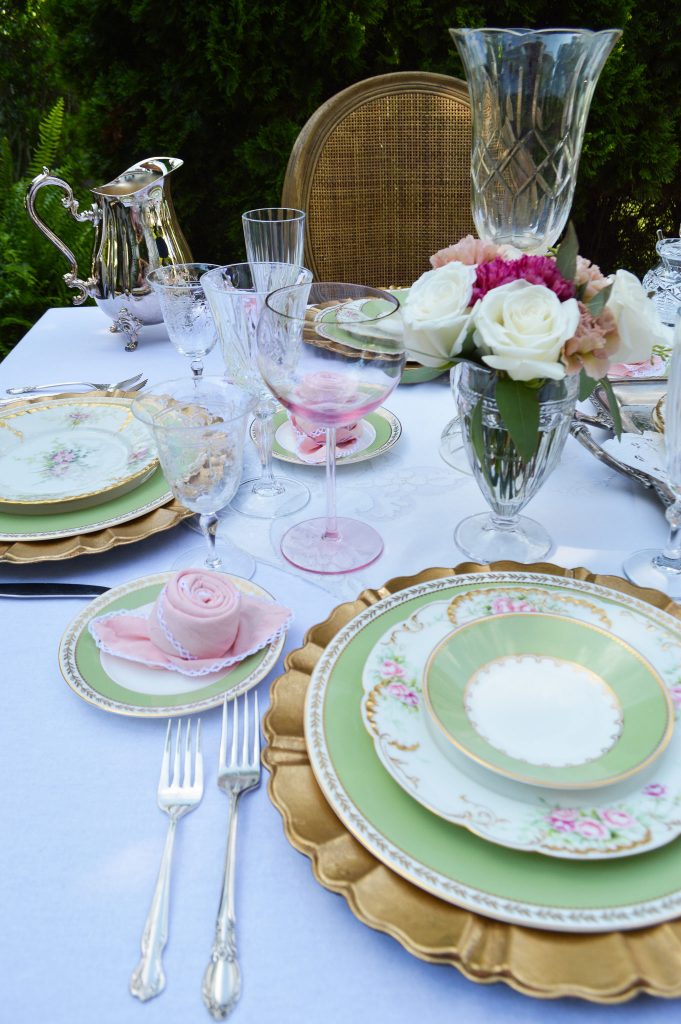 #3.  Place Setting
For this place setting, it was all about the layers. I used a traditional dinner plate in a shade of green with gold accents and then added the delicate Limoges floral accent plate.  The floral design of the accent plates plays up all the green and gold tones of the dinner plates to perfection. For a little extra pop of color, I used a green saucer plate to complete my place setting. All the pieces in the place setting coordinate well and bring a touch of old-world elegance.
#4.  Stemware
Use mismatched glasses. I use etched crystal stemware with modern glasses and they play very well together. The point is to make it fun and interesting for your guests.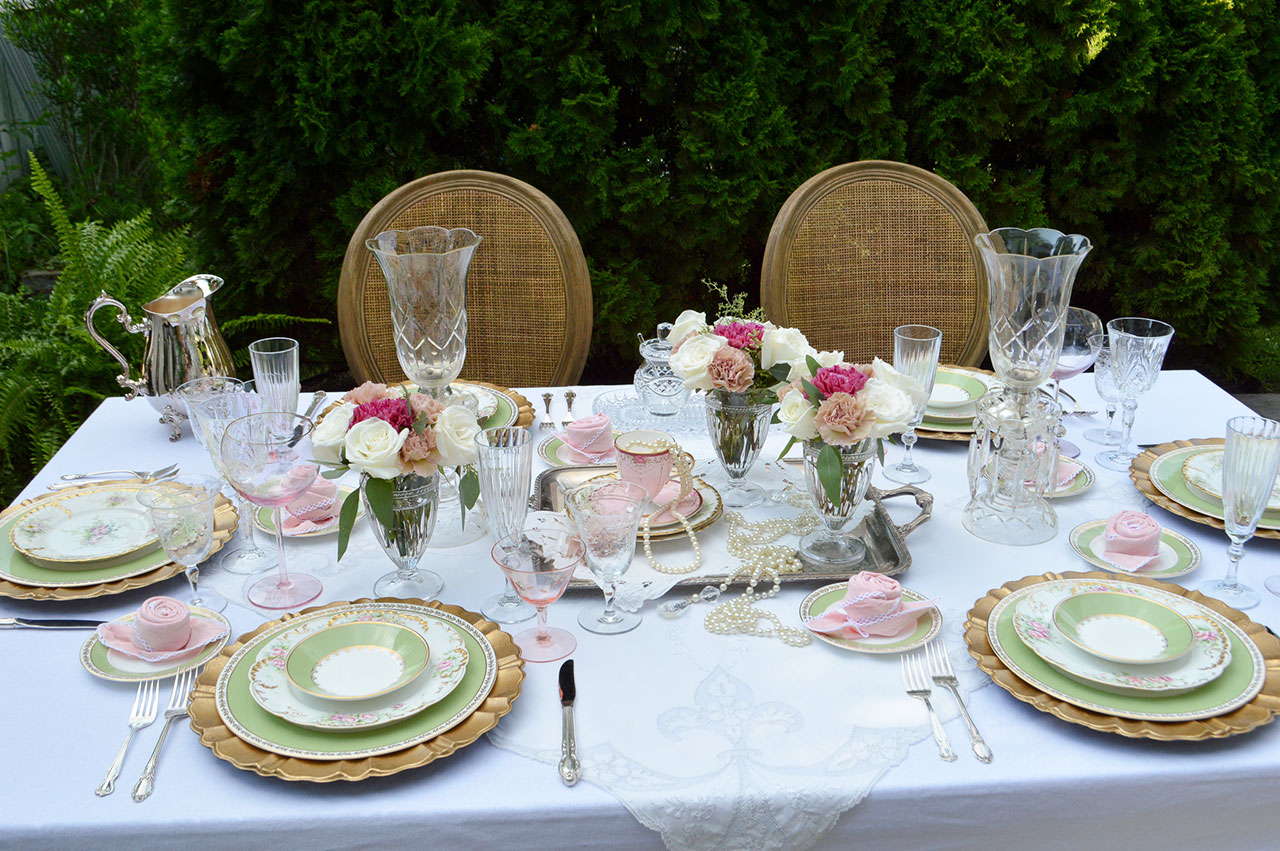 #5.  Flowers
Flowers are equally important when it comes to styling a table. Since the theme of this table was romance, roses and vintage carnations were my flower of choice. You can try a number of combinations for this. It really doesn't need to be elaborate. A single stem placed at each place setting can bring that touch of femininity and beauty to your table. 
#6.  Details
Remember the details. Think of the finishing touches for your table such as water pitchers, salt and pepper shakers and platters. They are those extra pieces that create a table that is well-styled and give it personality.
Janet shares more entertaining ideas and beautiful tablescapes on her blog, Rosemary & Thyme.
Want for more beautiful tabletop inspiration? Check out this post on a seaside soiree or this post on an elegant literary tea party.
Of course, don't forget to follow us on Instagram,  Facebook and Pinterest to get your daily dose of cottage inspiration!