Think you need days of planning to create a beautiful gathering? Think again. This weekend as you celebrate mom, all you need are 6 simple things to set a pretty table that makes everyone feel honored and special. To me, there's nothing more relaxing than a charming tea moment. Even if you've never thrown a tea before, you can surprise her by hosting an ultra-sweet afternoon soiree to enjoy a classic tea treat and light beverage. It is a sure way to make mom slow down and delight in much appreciated conversation and pampering.  A gift that is truly special and unique.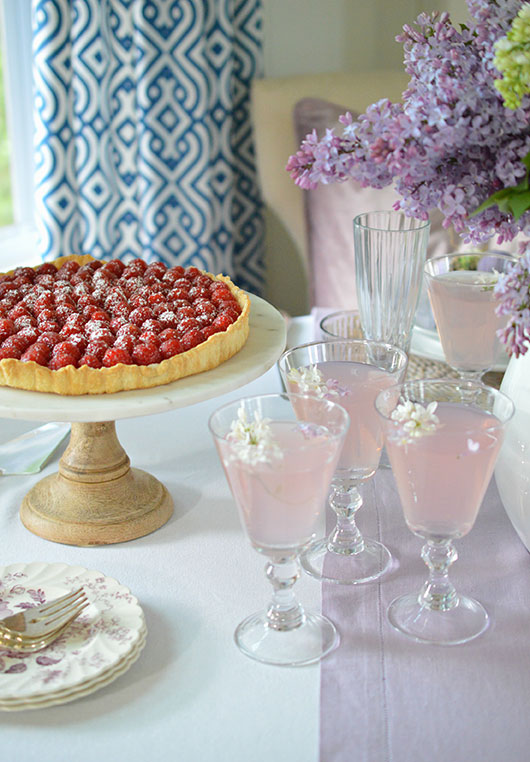 Set a Pretty Table for Mother's Day
Choose a soft and feminine color palette, like this set-up featuring delicate lilacs, whites and greens.  
Use fresh flowers to add a touch of joy and beauty to your table.  I am fortunate to have lilacs grow in my own garden and they bloomed just in time for this special Mother's Day Gathering. 
Serve up your favorite tea treat. For this occasion, I made my go to  raspberry tart. You can find the recipe here. If you're short on time, pick up your favorite store-bought dessert and present it on a pretty dish, embellish it with fresh mint and a dusting of powdered sugar for a personalized touch. 

Serve a beautiful beverage.  This can be fresh tea decorated with mint and lemons, fresh lemonade or in this case, a lilac infused cocktail.

Use beautiful floral vintage china to create a table that is inviting, elegant, and unforgettable.

Don't stress over it.  It does not have to be perfect!  Mom will appreciate the effort – she will be very happy just knowing that you tried!!!
Janet Collazo shares tips for entertaining, home styling and cooking at her blog, Rosemary & Thyme. Stop by for more inspiration with a floral, vintage twist!
Looking for more easy entertaining ideas? Get inspired by this French Country style gathering.
Of course, don't forget to follow us on Instagram, Facebook and Pinterest to get your daily dose of cottage inspiration!