New Year's Eve Tablescape Inspiration
Festive clocks, glittery details and mixed metals are what it's all about when decorating for New Year's Eve. Everyone will want to ring in the New Year surrounded by opulence, and an upscale end-of-the-year dinner party like this is so easy to put together when you start with an amazing tablescape like this.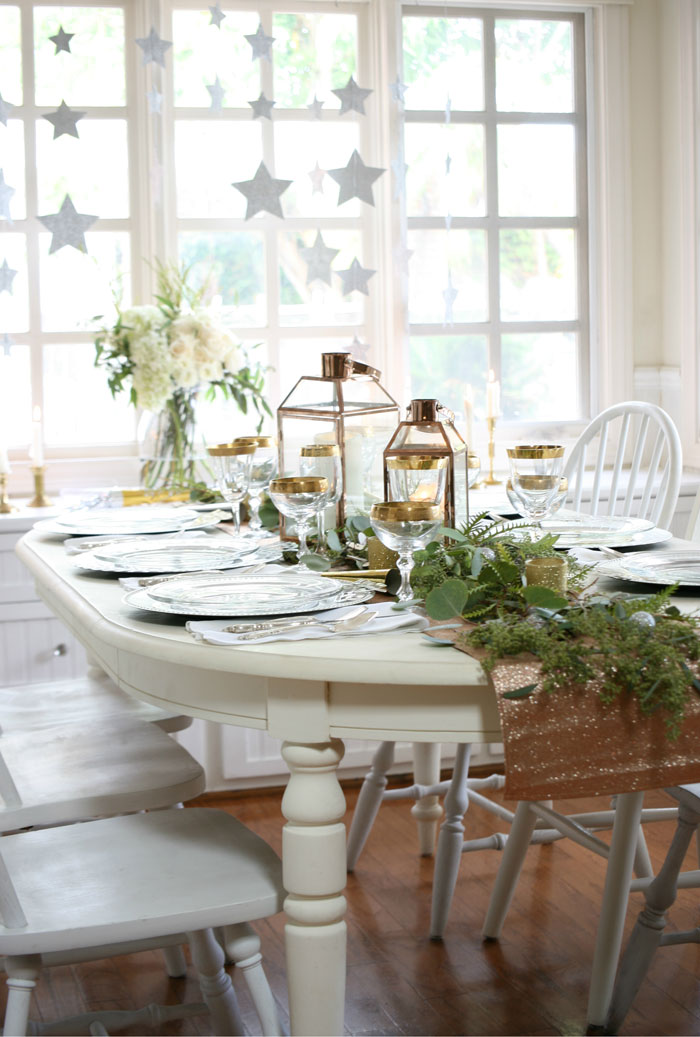 Time is on your side.
New Year's Eve is all about waiting for that important stroke of midnight when we celebrate the ringing in of the new year. All eyes will instinctively be checking the time throughout the evening. That's why clocks are my favorite motif on this special night, and I've found a really easy way to create beautiful clock dinner plates that involves no crafting!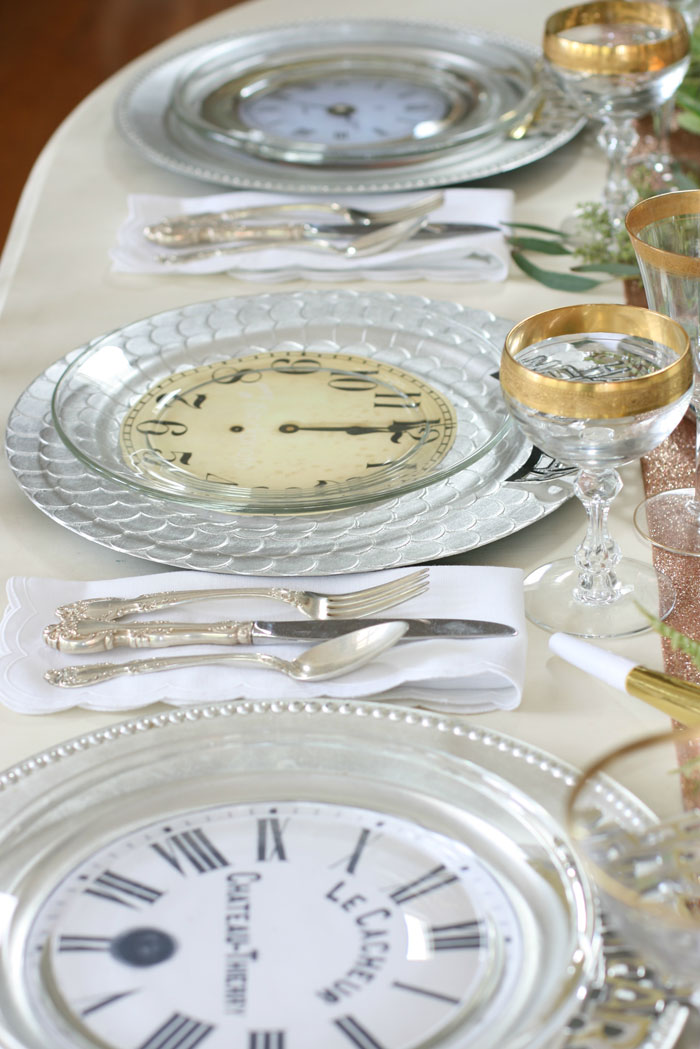 All that's needed to recreate this look are some clear glass dinner plates, silver chargers and a selection of pretty clock faces printed off on paper. You simply print your favorite circular clocks on standard paper and cut them out. After that, the paper clocks are layered between the glass plates and the metallic chargers. Voila, you've got yourself a set of custom clock plates!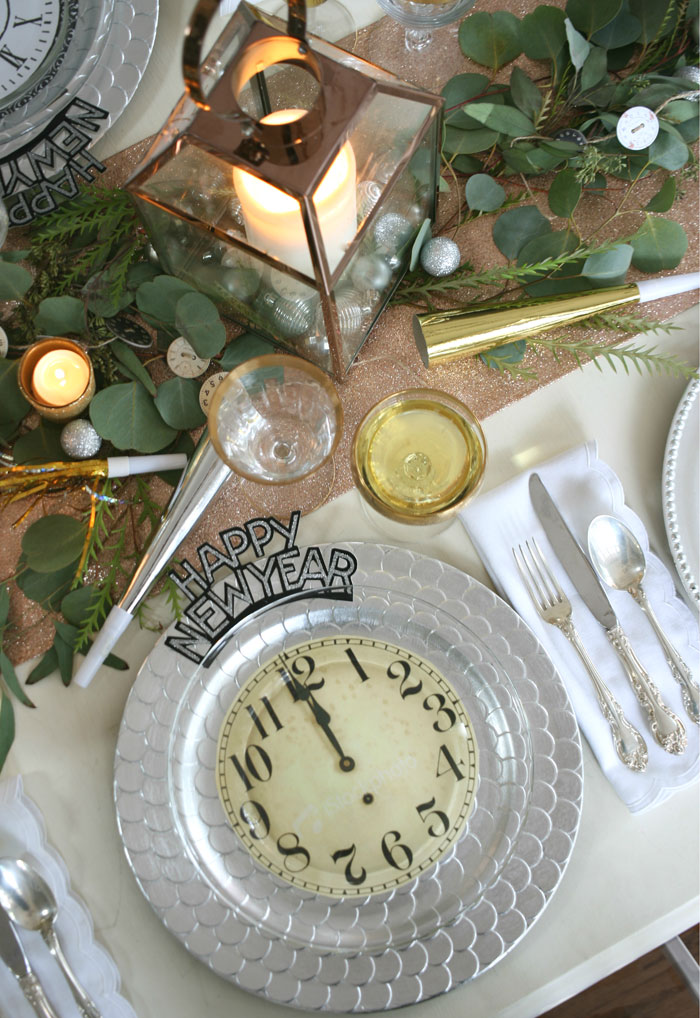 All that glitters is not gold.
Don't stop short by using one metallic tone at your table. Here we've opted for a mix of our favorite metals, including gold rimmed champagne glasses, silver chargers, copper lanterns and a glittery rose gold table runner. This combination of metals creates that opulent look everyone loves on December 31st!
You might also enjoy: 10 Products to Support Your New Year's Resolutions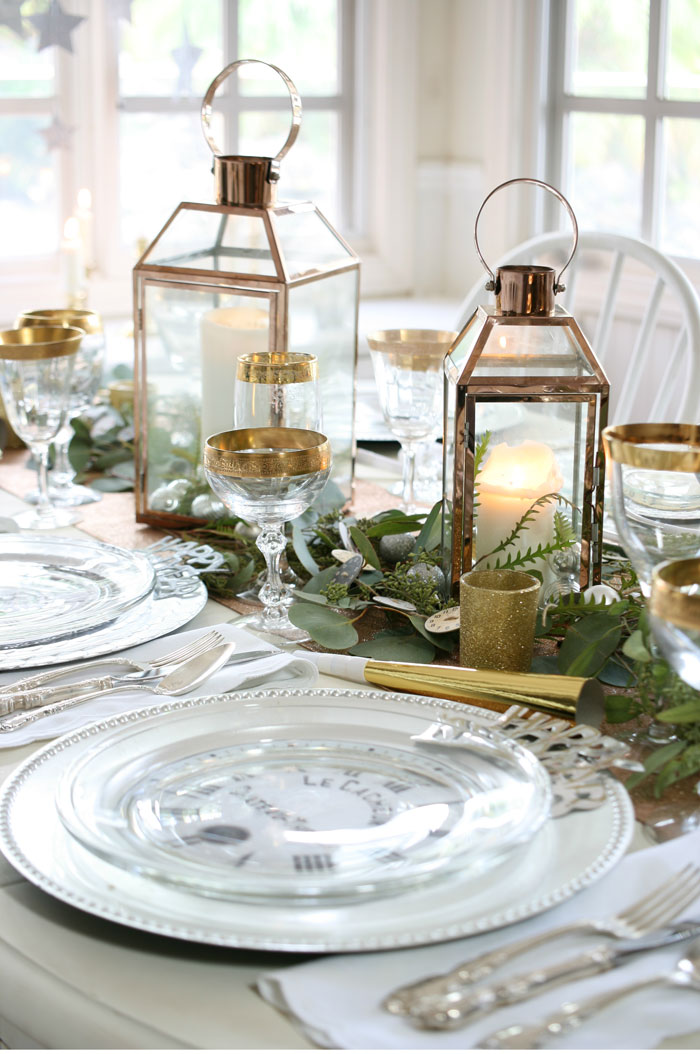 Simple greens.
Evergreens prove to be the perfect contrast to our mixed metals especially since a fresh, natural element always brings a table to life. In this instance, no flowers are needed for the center of our table. Three kinds of greenery are simply layered over the rose gold table runner, and then little silver holiday ornaments are added for fun along with a mini clock face garland that's casually strewn across the top of the greenery. A few sparkly gold votives added to the mix finish off the look.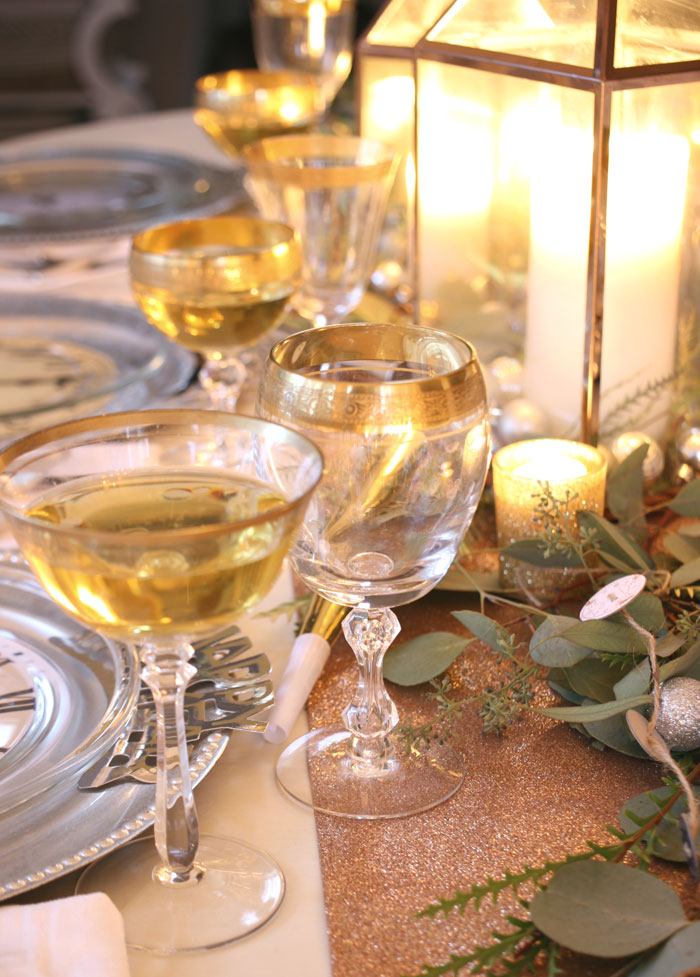 Candlelight always sets the right mood.
Every party should have its fair share of candlelight. For me, lighting the candles before my guests arrive fills me with excitement and anticipation for the evening ahead. Not to mention that candlelight creates the perfect mood for any party. Copper lanterns and glitzy votives provide this table with just the right ambiance, while vintage brass candlesticks and elegant white tapers create an illuminated backdrop.
You might also enjoy: Gold & Glitter New Year's Eve Party Essentials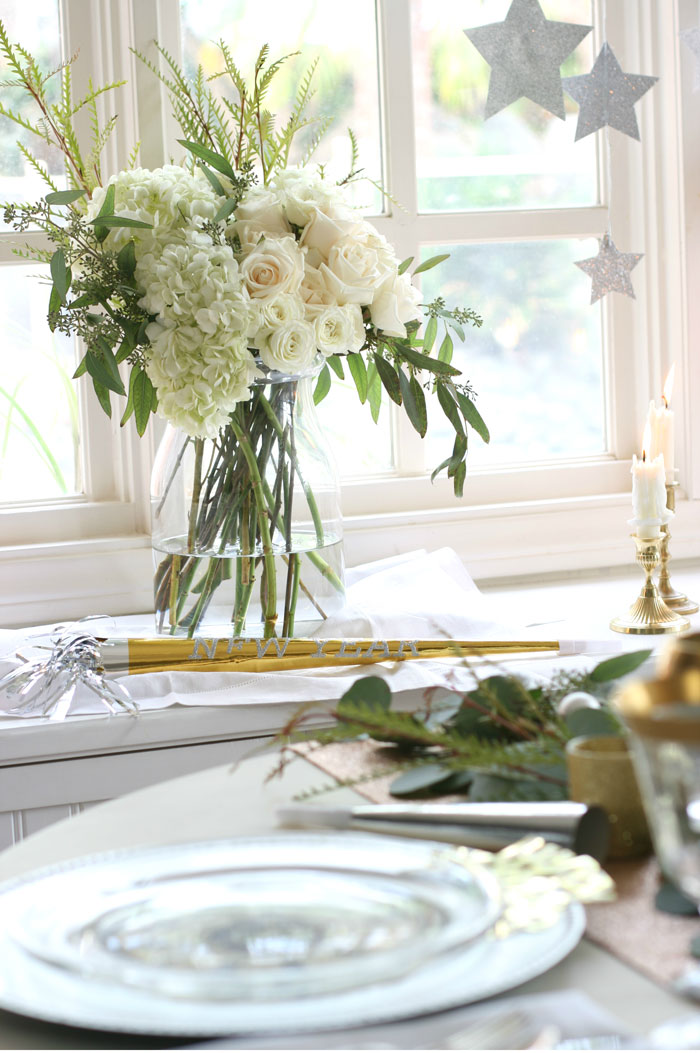 Sparkly stars and pretty flowers.
A striking bouquet of white roses and hydrangeas harmonizes beautifully with our table. They prove to be the perfect focal point for our dinner guests, while the cascade of glittery stars surrounding the table reminds us of the magic of midnight, when the ball drops, the fireworks go off and kisses are exchanged.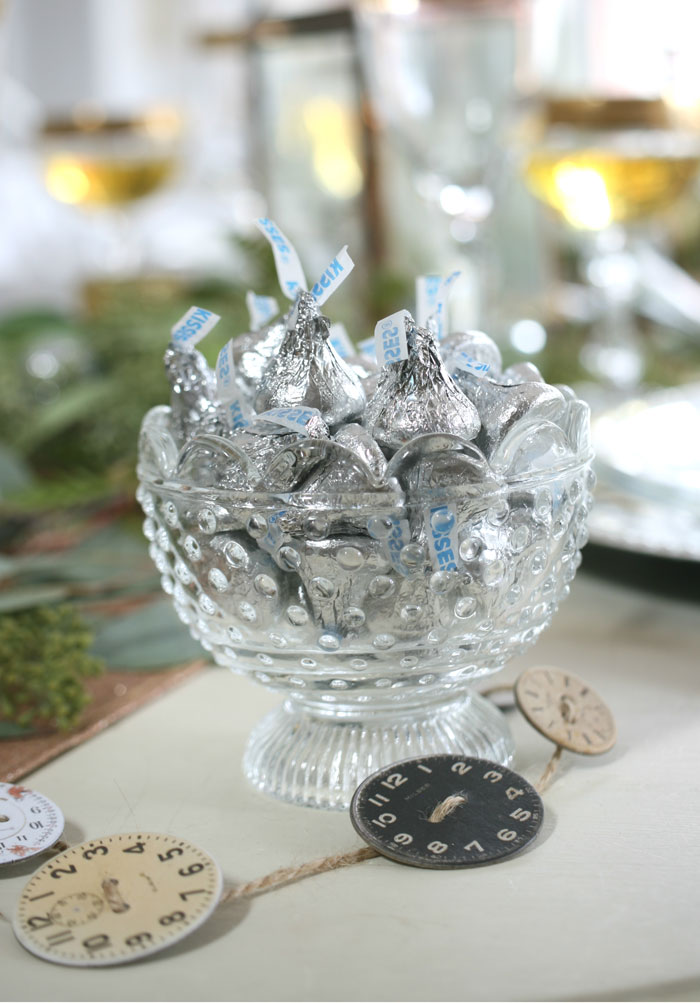 It's all in the details.
Don't forget to provide your guests with "Midnight Kisses." Little chocolate candy kisses, are just the right little decadent detail that everyone will love.  As the hands of the clock approach midnight, we'll be ready to toot our silver and gold party horns, so make sure there are plenty to go around. Confetti poppers and streamers are also a fun idea. Celebrating the incoming year always fills me with the wonder of what the New Year will bring.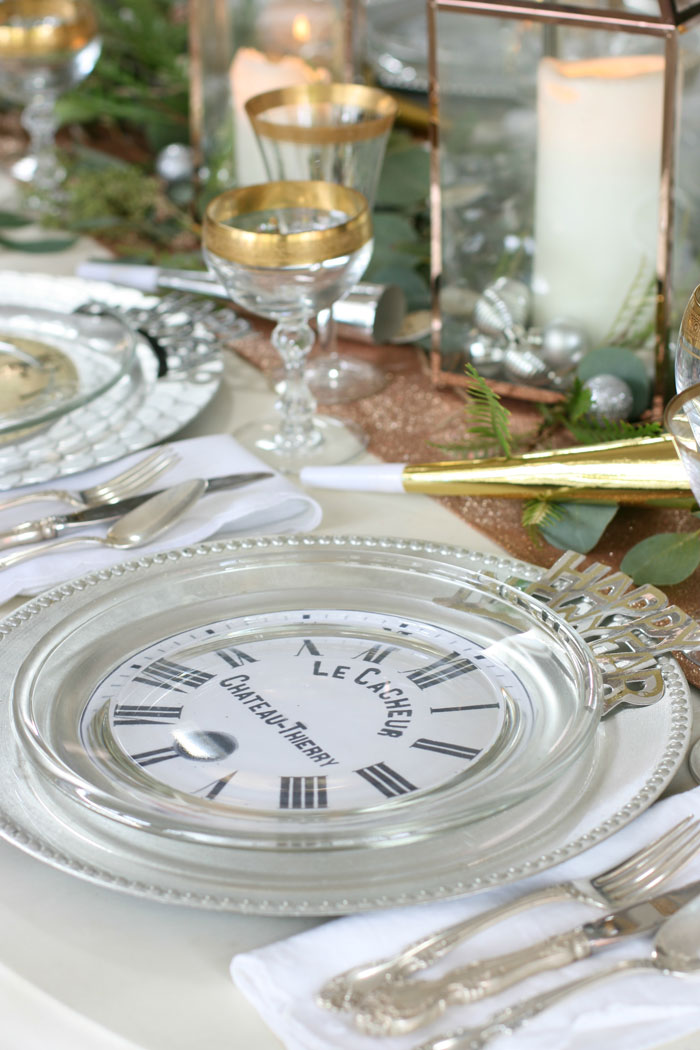 Of course, don't forget to follow us on Instagram and Facebook to get your daily dose of cottage inspiration! 
Creating beautiful tablescapes is one of Fabiana's many talents and passions. She regularly shares her delicious recipes on her blog, Ciao! Newport Beach and on Instagram.