Well! You made it to day 12! The last day of our Cottage Christmas preparation guide! It can sometimes feel nonstop, right? Hosting during the holidays. From Thanksgiving on, our merry-making muscles will be going into overdrive. But now that you've spent all this time preparing, you can take the time to slow down and savor the season. Here we've pulled together our best best tips for easier christmas entertaining to show you that you can have your party and enjoy it too.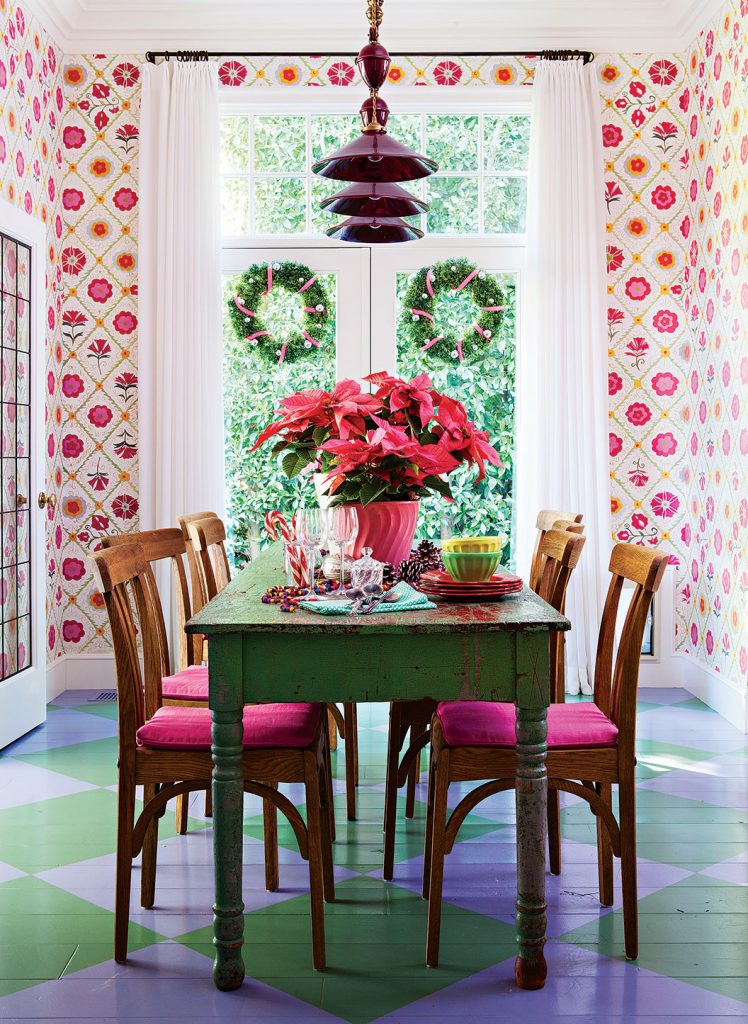 Go big, but not how you think…
I don't mean go all out; I mean literally go big. One big pot of pink poinsettias is all it takes to make this lovely living room in designer Alison Kandler's Santa Monica home look festive and fun. Before you start building your shopping list full of arrangements, table cards and enough candles to light up a cathedral, think about buying one big statement piece—I prefer fresh seasonal plants and flowers—and letting that do all your holiday décor talking.
Pick Items That Do all the Work for you
Just like with the above philosophy, easy christmas entertaining is all about making sure that what you use really counts. Gorgeous dinnerware can pull all the weight on your holiday table meaning you don't have to do as much to make the table look great. A fabulous ice bucket can make your whole bar cart look instantly more festive and special.
Beg Borrow & Steal– From Around Your House
Want to know our home styling secret for all our photo shoots? We don't always truck in loads of accents and accessories from all the major stores; we borrow from around the house to fluff and preen whatever room we are focusing on. So, if your gathering is concentrated around the kitchen and dining room, steal some ornaments from the back of the tree and sprinkle them on the countertop for décor, and borrow some pinecones from your mantel or entryway to tuck into your dining table for a little more layering and texture. No additional shopping before, nothing additional to store afterward. You're welcome.
Spend Your Time On What Matters To Your Guests
Often we get caught up in the sugarplum vision of the experience we want our guests to have. I know I'm guilty of that. But stop and think about your guests, or as they say in my line of work, know your audience. If you're hosting a small group of your girlfriends for holiday brunch, skip the extra décor fuss and use that time to make sweet simple favors for every seat. Or if you're having extended family over for dinner, focus on the meal; trust me, the other things will just be details. If it's a group of moms and their kids coming over for a gift exchange, sure, now you have permission to really fuss over the tree and mantel so the setting is magical and festive. Know what's important for each gathering, and give yourself permission to downplay all the rest.
As a fun gift to you, and to make your easy christmas entertaining strategy even easier, I've put one of my favorite holiday cocktail recipes onto a cute printable card using illustrations by Lauren Rebbeck. Make sure you sign up for our 12 days of Cottage Christmas Newsletters to get access to all our free printables! Make them for your guests and share the recipe. Or, what I love to do, give your guests a parting gift with the recipe card and some of it's ingredients! See below for how cute they look! Either way, make sure you have one for yourself, sit back, relax and enjoy all the fruits of your labor this Christmas. Cheers!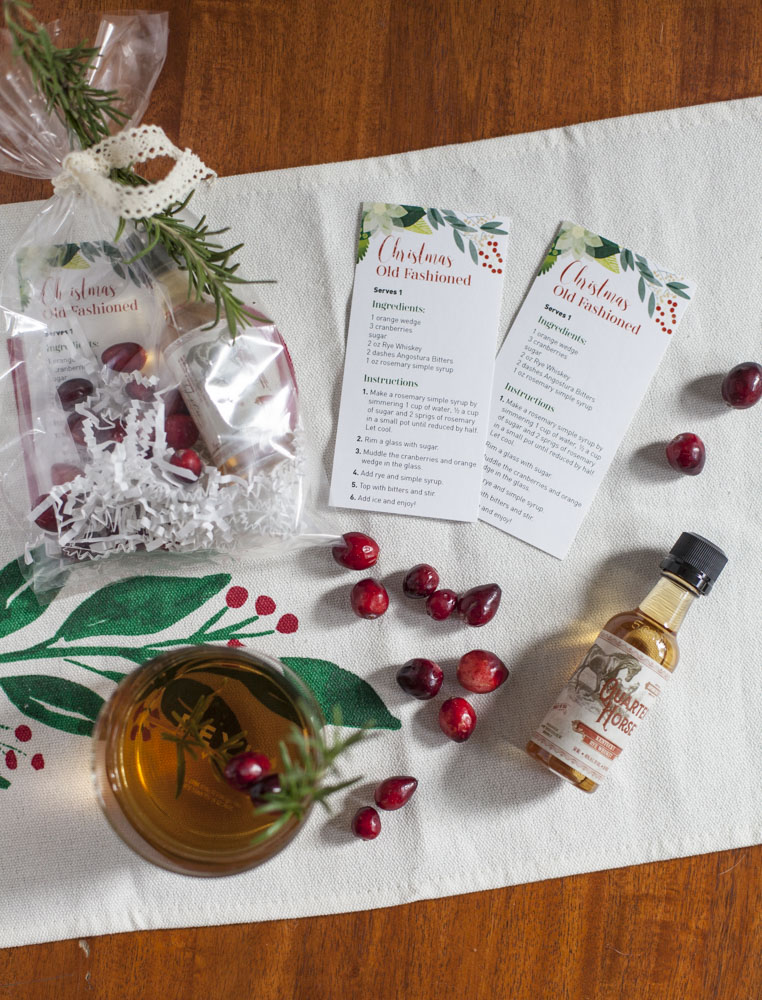 Did you miss any part of our 12 Days of Cottage Christmas? Check out the checklist below to see everything we covered. Or get caught up by starting with what we did on Day 1!
Of course, don't forget to follow us on Instagram, Facebook and Pinterest to get your daily dose of cottage inspiration!