If you love the idea of hosting family and friends for summer's biggest holiday, then I have a few ideas for a 4th of July table that will offer inspiration and help you set a fun and patriotic table with everyday dinner plates and glassware that you already own.  
Keep in mind that your table doesn't have to be elaborate to be festive.  For this tablescape, I kept the colors pretty solid. From the white tablecloth to the white dinnerplates. Most of the pieces are great for this themed table and for everyday use! No need to buy more plates… Just follow the simple steps below and in no time, you will have a charming and buzzworthy 4th of July tablescape that everyone will love.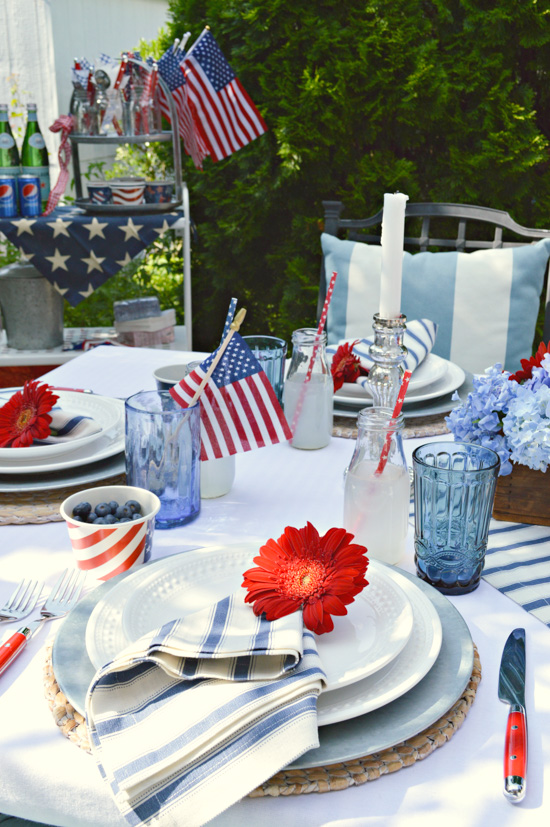 Step 1:
 

Pull Out Your Red, White, and Blue Party Decorations

Gather all your patriotic decorations such as small flags, treat cups, ice cream cups, and straws. Most of my patriotic decorations came from the Dollar Store. These small party essentials will help you set a festive tone without too much investment yet will tie the whole 'Fourth of July theme' together. For my table, I added straws decorated with the patriotic theme to simple glass beverage bottles and used ice cream cups at each place setting to add pops of color. I also placed a few small flags in glasses to bring on the red, white and blue.

Related Reading: Tour a cottage full of red, white and blue
Step 2:
 

Gather Your Linens

The key to keeping things simple is to go for a neutral tablecloth. I typically like to use a tablecloth even when I am entertaining outdoors. It's just one of those essential pieces that add a bit of formality and serves as my starting point. To keep things casual for the 4th of July table, I selected a white cotton tablecloth for my patriotic table. It brings a clean and fresh look to the table and makes the red and blue tones stands out. While white and blue striped napkins layer beautifully on top of white plates.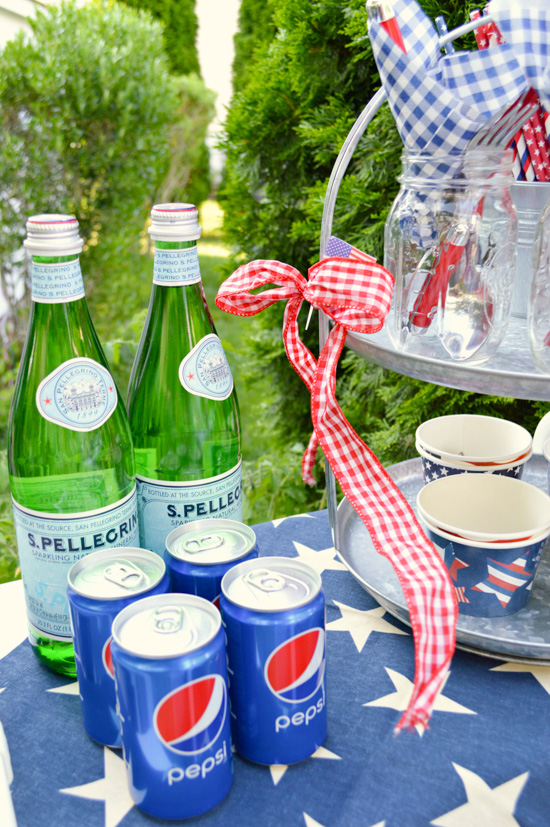 Step 3:
 

Use Everyday White Plates

When it comes to buying seasonal tabletop pieces, I always keep in mind how often they will be used and if they have a budget-friendly price. So with that in mind, forgo the patriotic plates. (unless you really fall in love with a set) Choose simple everyday white plates to keep things super easy. Let the napkins do all the work! In this instance, my white and blue striped napkins added just the right touch of the patriotic feel that I wanted to give to each place setting. A delicate Gerbera Daisy brings a touch of color, adds interest and elevates this casual place place setting.
Step 4:
 

Incorporate Colorful Flatware and Glassware

Use inexpensive flatware and glassware in shades of red and blue to play on the red and blue!!! It's a unique way to add some charm Play around with patterns and colors.  
Step 5:
 

Add A Festive Centerpiece

A centerpiece is the one piece that will anchor the entire table. It is your statement-making piece and takes things up a notch. In my opinion, fresh hydrangeas and gerbera daisies are the classic flowers for a festive 4th of July centerpiece. I simply placed blue and red flowers in a vintage tool box to create a unique and colorful arrangement

Remember to always add a bit of your personal style and personality when creating your 4th of July table. It should feel satisfying and make your heart happy. I hope you can take some ideas from this table and don't be afraid to add your own chic style!

Janet shares more entertaining ideas and beautiful tablescapes on her blog, Rosemary & Thyme.

Want more simply beautiful ideas? Check out this post on Vintage July 4th Recipes! 

Of course, don't forget to follow us on Instagram, Facebook and Pinterest to get your daily dose of cottage inspiration!