This week at Victory Farms we are going to turn a messy utility room into to an organized modern farmhouse-inspired laundry room. When I first saw this room, (before photo below), I was taken aback by not only the clutter, but the original builder had placed the water heater directly in front of the electrical panel. This was a red flag! Knowing that V wanted to have a large easy-to-use laundry room, I had met with my plumbers and team so we could find a way to relocate the water heater into the finished crawl space. Not only would this give us the space we wanted, but also bring this home up to current code. Since we were adding an additional full bath upstairs, we decided to go with two 75-gallon tanks to make sure V and her guests would have plenty of hot water.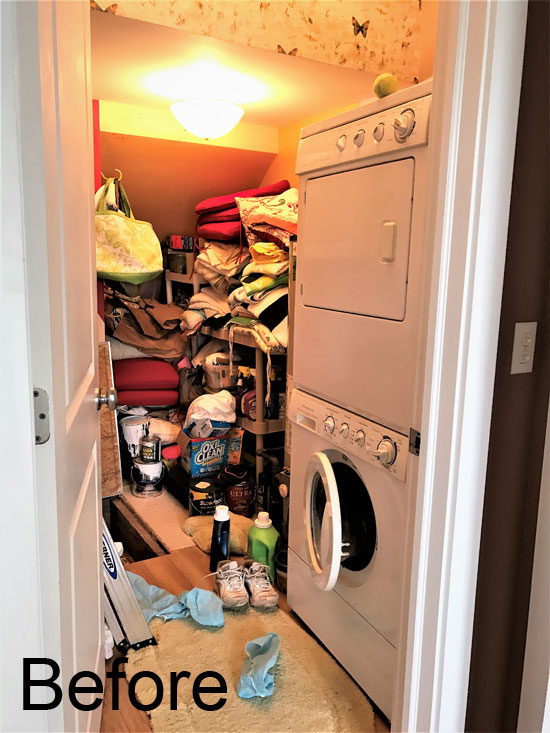 What great news, now that we were able to open up this area, I headed back to the office to start gathering design ideas for what I wanted this space to look like. Since this upcoming laundry room is literally off the kitchen, I wanted this room to flow with the kitchen and be part of the entire space and give us the vintage farmhouse charm we were wanting to achieve. We decided to go with a black and white tile that was not only durable but fun with lots of character! What was super cool, is that we also incorporated a trap door into the floor which leads to a crawl space below. BY using the matching black and white floor tile, the trap door disappeared into the floor giving a seamless look to the space.
I was also able to give V a side-by-side front-load washer and dryer because of the space we gained, how exciting!  Knowing this, I then added a large upper cabinet above the units that matched the kitchen cabinets and hardware to hold laundry soap and cleaning materials to avoid any clutter.  I also really wanted to pull in some warmth, so I had my carpenter Greg build a custom wood countertop that went directly over the washer and dryer for V to fold her laundry on. Wow this did it!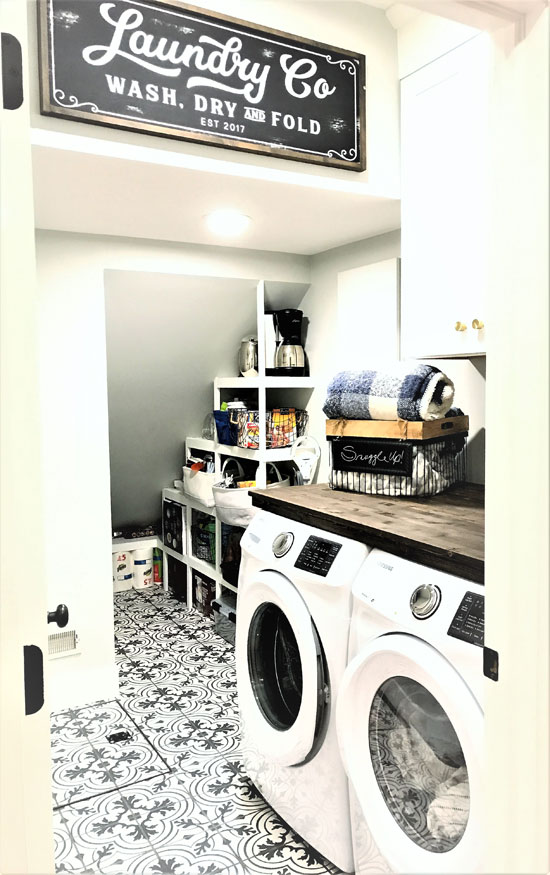 This custom wood countertop was also removable if needed, which was pretty clever of Greg, in case the units ever needed repairing. I also had Greg stain this countertop a warm color to really invite that farmhouse feel.  Since we took out the old pantry closet in the kitchen to accommodate a beverage center, I had Greg build V custom shelving along the back two walls in the laundry room this was pretty amazing.  This gave V a lot of extra storage space for accessories, dry foods and more.  On the opposite wall facing washer and dryer, I made V a surprise wood custom hook display to hang coats and more coming in off the back-kitchen door along with a custom "Laundry Co" sign purchased from Etsy to display when walking in.  This space was now ready to be used and loved!
Stay tuned for more of "Victory Farm's "next week we will do the whole house reveal. I Hope you enjoy!
For more on Betsy Glass's work and projects click here.
Get caught on past installments like the entryway reveal and the entertaining space reveal.