When Kate Lester first approached this 1952 home in El Segundo, California, it was dark, dated and in need of an imaginative redesign. The homeowners asked Kate Lester Interiors for an open floor plan, and once an architect brought that dream to fruition, Kate filled the home with style and modern beach cottage Christmas cheer.
Describing the home as being a little modern farmhouse and a little classic coastal, Kate used seaside hues and traditional furnishings paired with modern elements to let the home feel vibrant and welcoming year round. "It's a hybrid of sorts, a really beautiful and direct reflection of the people who live there," Kate says. "The clean lines of the furniture contrast with the texture of the woven wood shades and natural fiber rugs. Vintage pieces mix seamlessly with new finds, and it all comes together so well."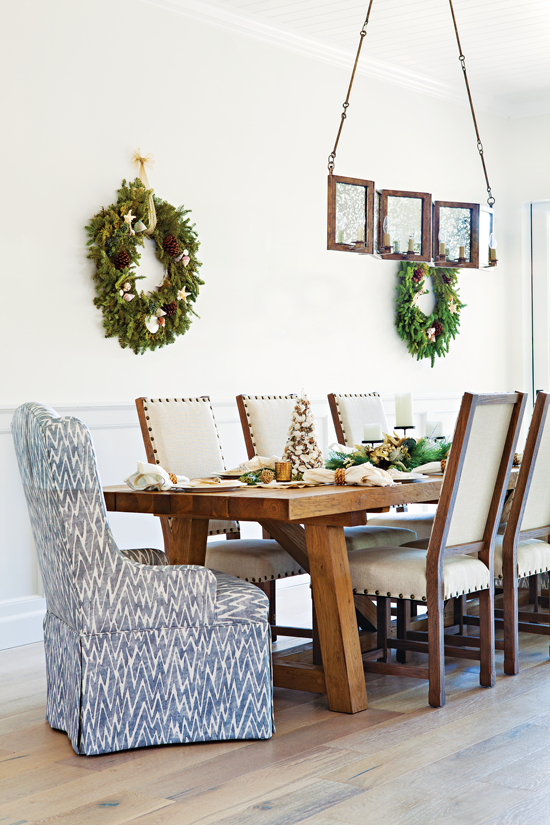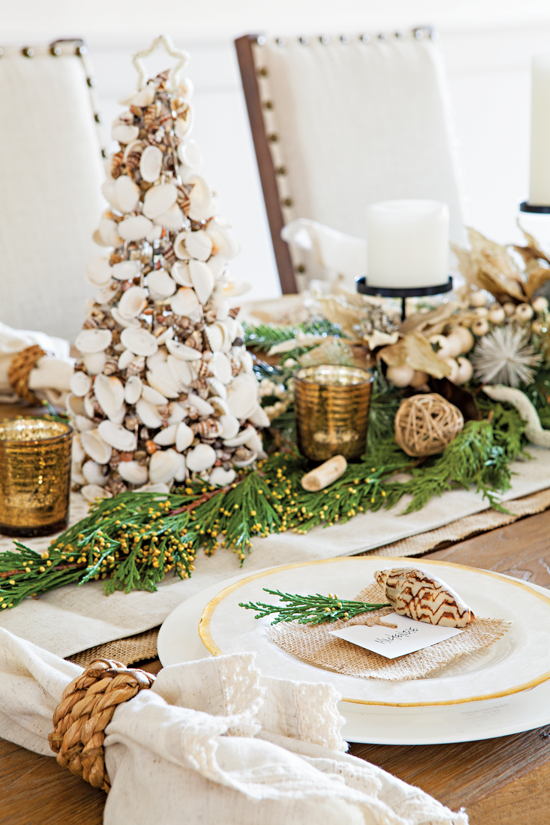 Seasonal Sensation
Transitioning regular décor to seasonal can be a difficult balance to strike, but Kate makes the process look breezy. In this client's home, the typical reds and greens of Christmas are traded in for a more personalized approach to the season. "For these clients the goal is a very understated and chic holiday look that feels classic and tailored."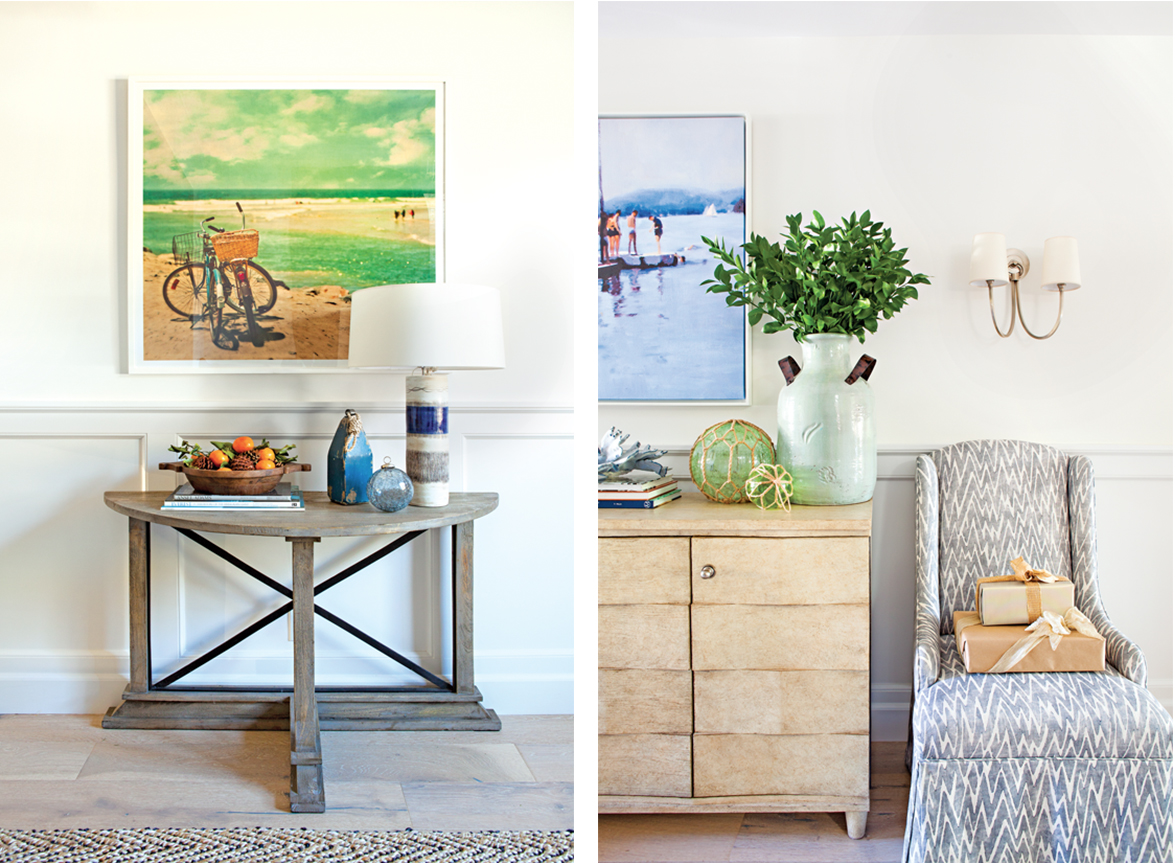 As part of creating a classic, tailored ambience ideal for holiday entertaining, Kate sought to keep things simple. "There is a luxury in simplicity," she says. According to Kate, just because the month has changed, all the pillows, plates and napkins don't need to be traded out. For a simpler take on holiday décor, Kate suggests building on the home's pre-existing design. "We took the textures already running throughout the home—glass, linen, wood and burlap—and pulled those together with coastal-inspired holiday items."
Simple touches such as pinecone- and seashell-adorned wreaths, burlap ornaments and ocean-hued vases bursting with greenery bring the spirit of the season to every corner of this California home.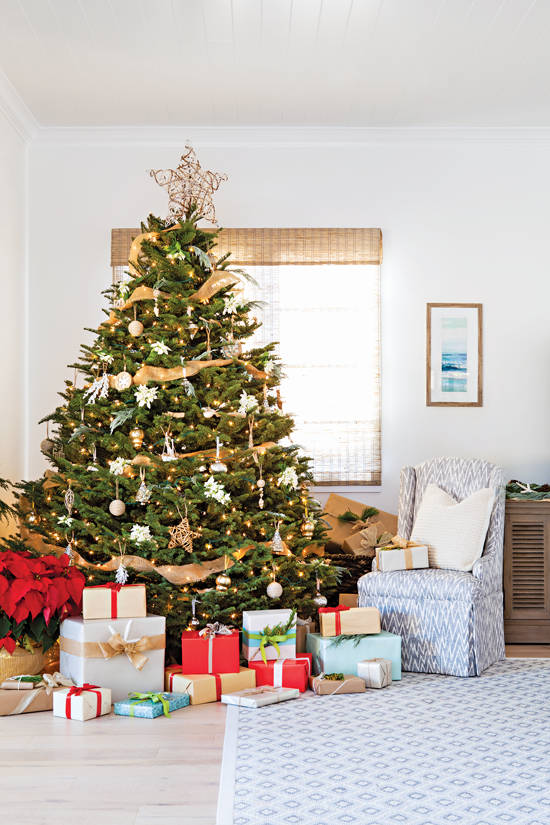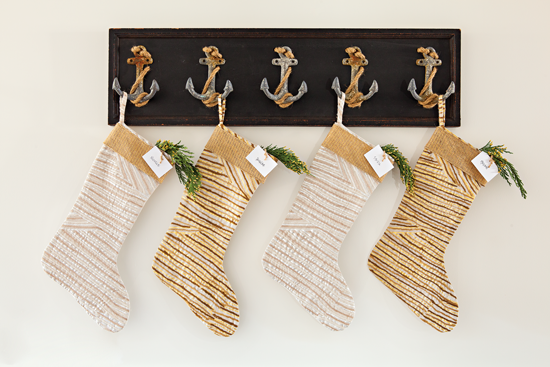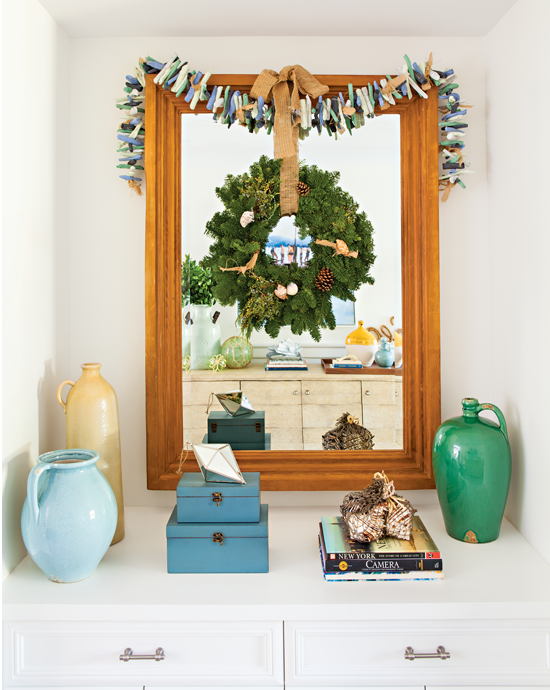 Entertaining Essentials for a Beach Cottage Christmas
Set within the open-concept living room, the dining space is anything but demure. The oversized wood table anchors the setting, while custom upholstered and linen chairs surround. For the holidays, Kate brings the table to life with a layered setting that takes full advantage of her motto, "More is more."
"The truth is a good tablescape should combine texture, dimension and bit of the unexpected," Kate says. "For this table we layered burlap and linen with real and faux greenery for contrast and depth. Then we accented with the pops of gold and the unexpected: bits of driftwood and seashells."
SIMPLE TOUCHES SUCH AS PINECONE- AND SEASHELL-ADORNED WREATHS, BURLAP ORNAMENTS AND OCEAN-HUED VASES BURSTING WITH GREENERY BRING THE SPIRIT OF THE SEASON TO EVERY CORNER OF THIS CALIFORNIA HOME.
Adorning the backs of the chairs are simple wooden ornaments that have been effortlessly tied into Kate's beach cottage Christmas design with the help of burlap and fresh greenery. On the table, shells denote place settings, while touches of greenery keep it feeling seasonal.
Kate's advice for turning year-round décor into festive holiday décor is simple—embellish what you already have, and add bits of the holiday spirit into your existing color palette. "If you have blues and tans and browns in your existing décor, then play up the natural winter palette of burlap, gold and white. It's classic and natural. You can always add pops of color with floral arrangements and gift wrap!"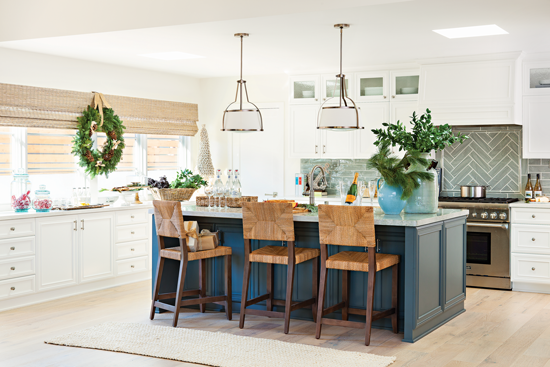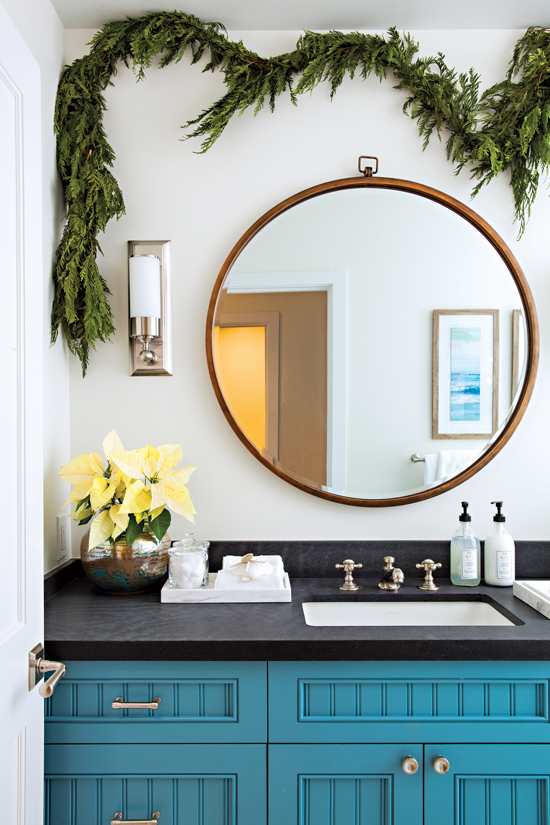 Warm Wishes
California winters are mild, allowing for nearly year-round outdoor entertaining. With an outdoor fireplace and cozy furnishings layered with pillows and throws, the back patio welcomes guests with promises of warmth and comfort. Set just beyond a wall of glass panels, the space is still much a part of the main living room.
WE TOOK THE TEXTURES ALREADY RUNNING THROUGHOUT THE HOME—GLASS, LINEN, WOOD AND BURLAP—AND PULLED THOSE TOGETHER WITH COASTAL-INSPIRED HOLIDAY ITEMS.
"This door system was something we knew would happen from the get-go as this was one of the most important elements in the home's design," Kate says. "Not only do the glass doors add an unexpected modern element to the space, but they also allow the outside living space to feel like it is incorporated with the indoor space." With this seamless indoor/outdoor living experience, the homeowners are able to take full advantage of all the available livable space around them.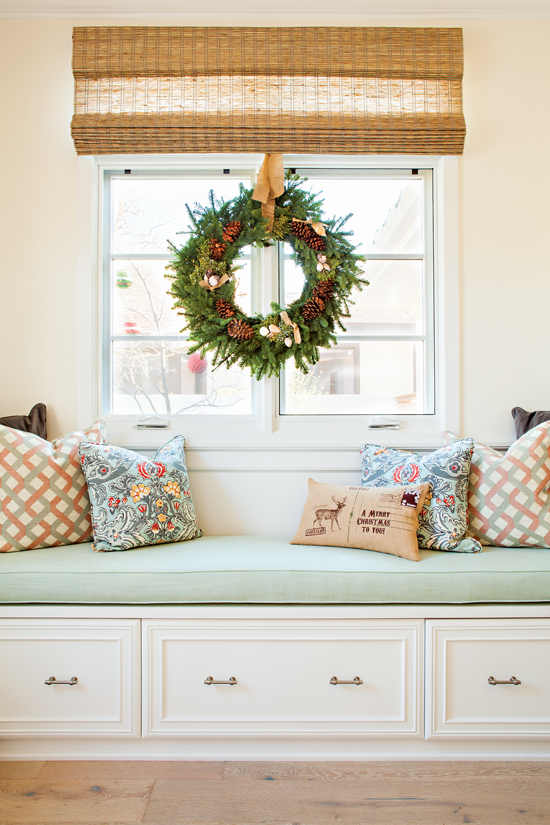 When the remodel process first began, the homeowners wanted to keep the home's fireplace in its original location in the living room. Sadly, with the reworking of the floor plan it simply wasn't possible. Not wanting them to lose out entirely, Kate created the outdoor entertaining area. "The covered outdoor space was built to serve the purpose of a secondary family and dining room, to be used all year long. It's a really serene space and a beautiful place to wind down with a glass of wine after work, while still being able to watch the game," she says.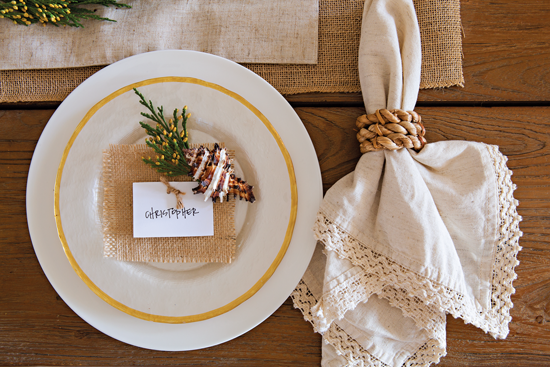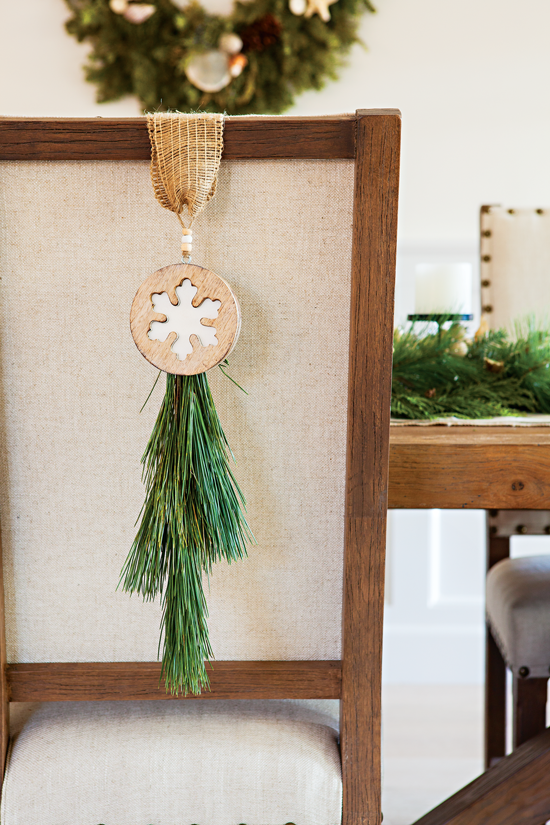 Fabulous & Functional
As the hub of entertaining, the kitchen is ready for the festivities of a beach cottage Christmas, thanks to carefully planned use of space. Where upper cabinets would normally be hung, windows allow natural light to flood into the space—solving one of the home's previous biggest problems of feeling dark, as the old floor plan lacked an adequate number of windows.
This problem-solving addition of windows also allowed for the creation of a unique buffet-like serving area along the length of the kitchen. Spread with drinks and desserts, the space is ideal for holiday parties and encourages guests to flow out into the living room.
FOR EFFORTLESS CHRISTMAS DÉCOR, EMBELLISH WHAT YOU ALREADY HAVE AND ADD BITS OF THE HOLIDAY SPIRIT INTO YOUR EXISTING COLOR PALETTE.
"I wanted an area for the clients to be able to entertain and lay out food and drinks without taking up precious island square footage," Kate says. "Keeping the windows above the cabinetry also helped the kitchen seamlessly transition to the great room along that visual line." Even without the typical upper cabinets, storage is not a problem, as Kate created a spacious pantry for lots of out-of-sight storage.
Overall the kitchen's design was kept simple so as to best suit the homeowners' lifestyle, but simple doesn't mean skimping on style. Kate's take on subway-tile backsplashes features handmade Italian 3- by 12-inch tiles "with a perfect amount of imperfection and undulation that you can only find in a true hand-crafted product," she says. "To keep it from getting too serious, we laid them in a herringbone pattern inlay over the range."
Kate's beach cottage Christmas décor is essentially a dressed-up version of the house. Brimming with fresh greenery, glittering accents and layers of texture, the joy of the season is made fresh in this California home.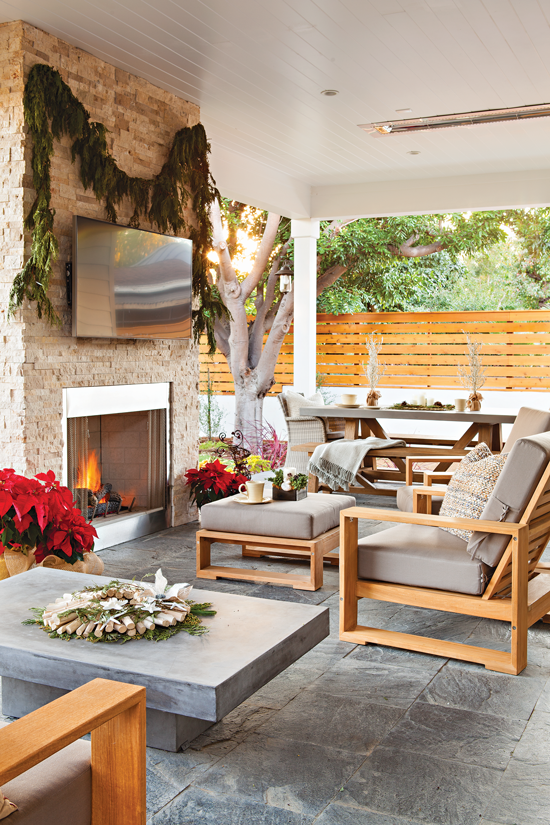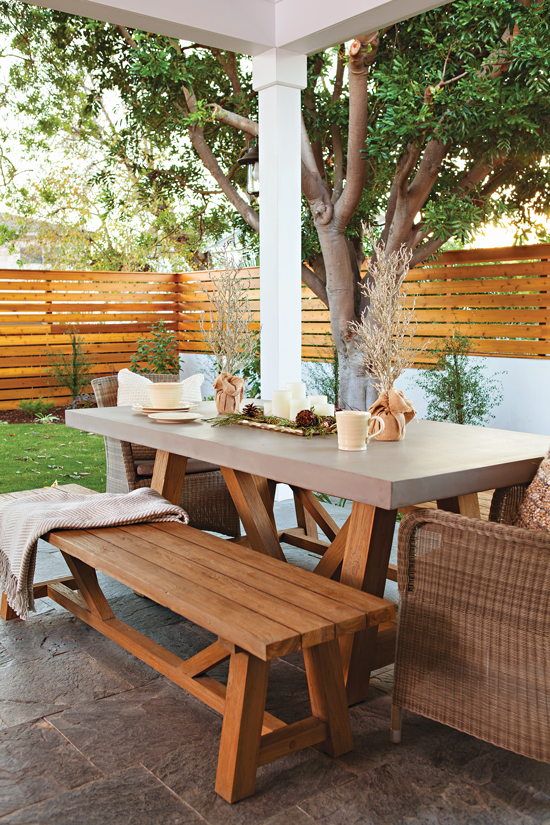 Looking for more modern cottage inspiration? Check out these posts on a modern cottage with a farmhouse edge and this bold and dramatic modern beach cottage kitchen.