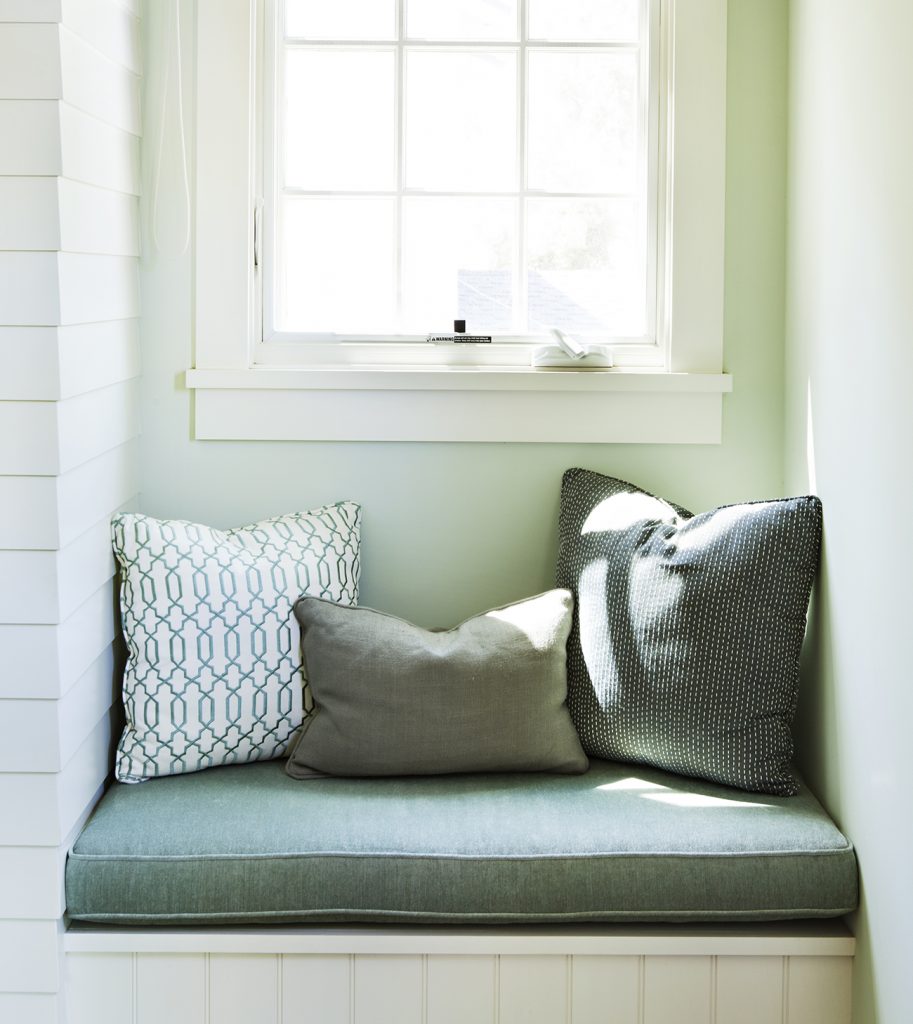 Fabrics –
Before snapping up the cutest fabric or cushion in the store, consider the location and utility of your window seat. For example, darker fabrics may fade faster under particularly sunny windows and lighter solid colors may not be kid-friendly.
For sunny spots look for fade resistant or light colored fabric. Here, a simple print adds plenty of color and interest.
Kid-friendly spaces need durable fabric with patterns to help hide tough to get out stains.
In dining rooms and kitchens, choose simple patterns that coordinate with your color scheme and will be easy to wipe off when crumbs miss the plate.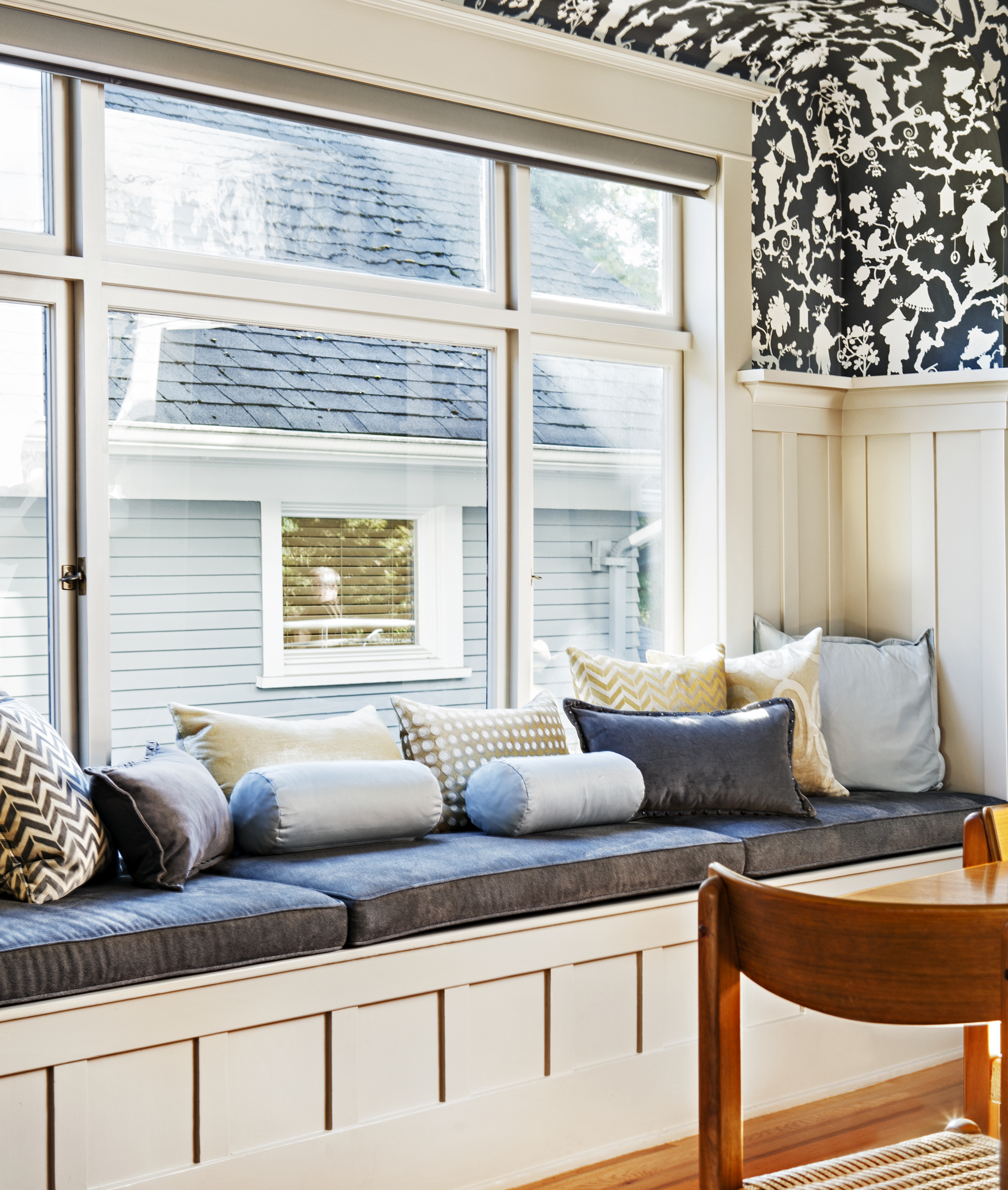 Comfort –
Create the most comfortable window seat possible by using the appropriate cushions and adding pillows. Since your window seat will have your back against a wall, cabinet or the window itself, do yourself a cozy favor and add pillows that coordinate with the cushion.
Not all cushions are built alike. If you are buying a pre-made cushion, don't be afraid to give it a try before denying your window the best seat possible.
If you plan on making your own cushion, ask a sales associate for guidance on choosing the appropriate product based on where your window is and how often it will be used.
Pillows offer comfort and color. Use this as an opportunity to add pattern to a solid colored cushion or incorporate a coordinating print like in the window seat pictured.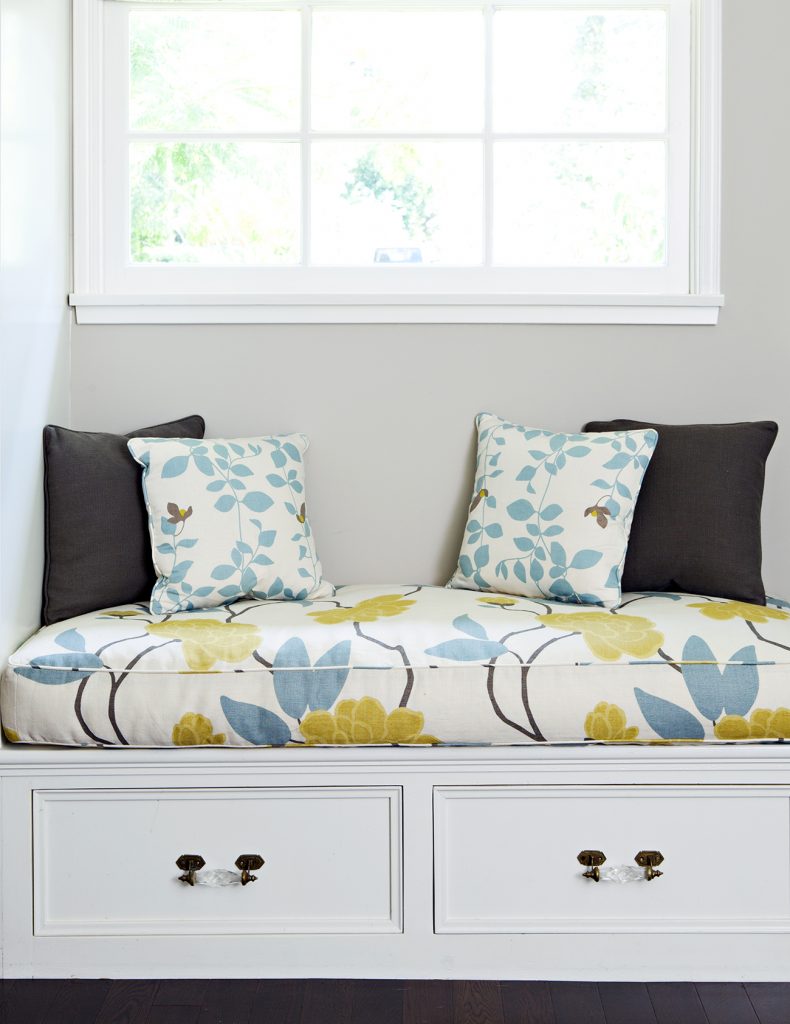 Storage –
By utilizing the base of your window seat you can create an ideal spot for stashing household items. Drawers and cabinets with doors add concealed storage and are a good opportunity to use fun knobs or pulls, while open shelves put books within easy reach and treasures on display.
Living room window seats offer ideal for seasonal decor and extra blankets.
Store toys and games under window seats in kid's rooms.
Linens and large serving pieces can find homes in dining room and kitchen window seats.
Window seats are easy to personalize and can be thoroughly enjoyed in any room of the house. Add cottage ambiance to your home by personalizing a window seat.