Working from home has many advantages, the most significant being saving on travel expenses and eliminating the stressful commute. However, having a functional and well thought-out home office is essential for productivity and keeping you organized.
A well-organized home office can also be stylish and beautiful. After all, you will spend the majority of your day working in the space. My goal with this home office makeover was to create my ideal workspace without breaking the bank. With a mix of IKEA pieces, a new desk, custom seating and window panels, I created my perfect home office.
These are my biggest takeaways for creating a beautiful and functional home office.
Locate the Best Space
One of the most important parts of creating a functional home office is selecting the right space in your home for it. The best space will energize you and make going to work fun. I'm fortunate in that I have converted our sunroom into my home office.  It is bright, spacious and my version of the perfect office.
Paint the Walls a Color You Love
Choose a color that inspires you and gets you moving! For some people, that means bright and cheery. Do you need a more calming environment? Then stick with neutral colors; soft pastels walls can have the same effect. I went with an antique white on the walls and custom bench but added lots of color with the window panels and pillows.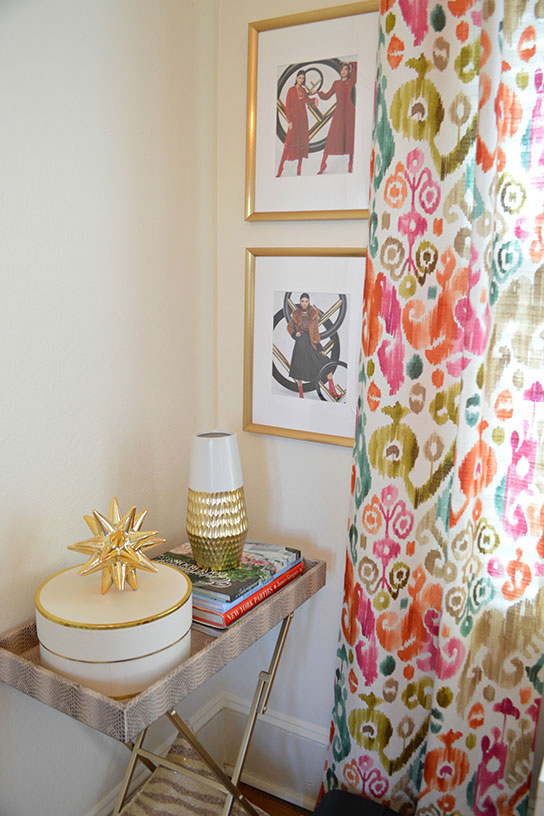 Invest In a Great Desk and Chair
Your desk and chair should be functional and comfortable. Consider your workflow before selecting your desk.  Do you need a large work surface? Think of the items that you need at your fingertips.  Do you want drawers for extra storage? Your office chair should be beautiful as well as comfortable.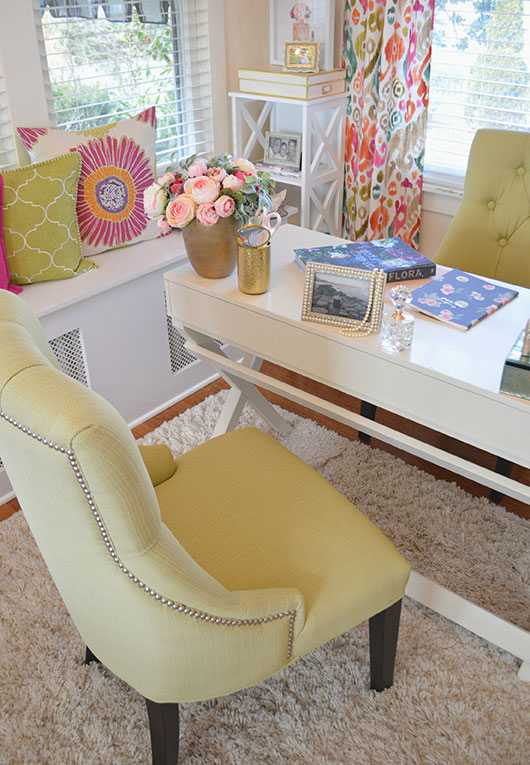 Be Creative with Your Storage
Invest in inexpensive bookcases. They are the building blocks of any organization system! I love using cube storage organizers to keep things neat and tidy. It's also an easy way to add warmth and texture to the space. Use stylish enamel boxes, hat boxes and kitchen containers to store your essentials such as paper clips, binder clips, sticky notes. Use wicker baskets to hold printer paper, labels, extra ink and scrap paper. For small desk items, use drawer dividers.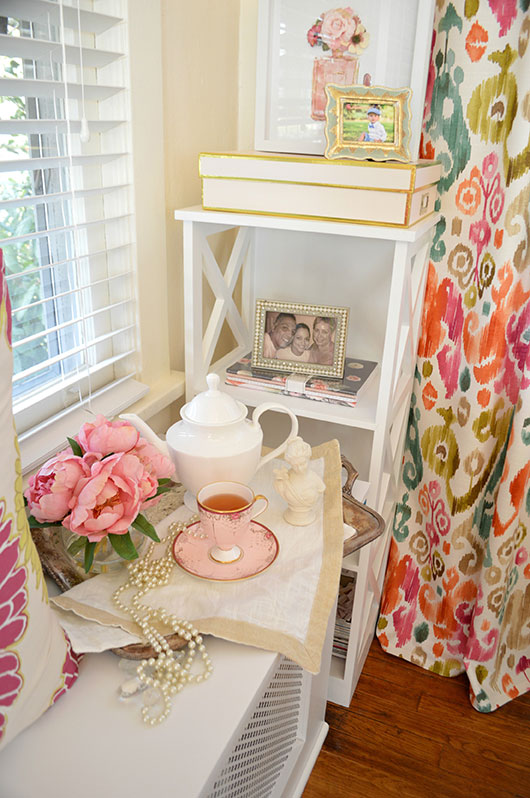 Don't Forget the View
Place your desk where you can stare at something that motivates you.  A window would be ideal but if that isn't your case, place your desk by a pretty piece of art.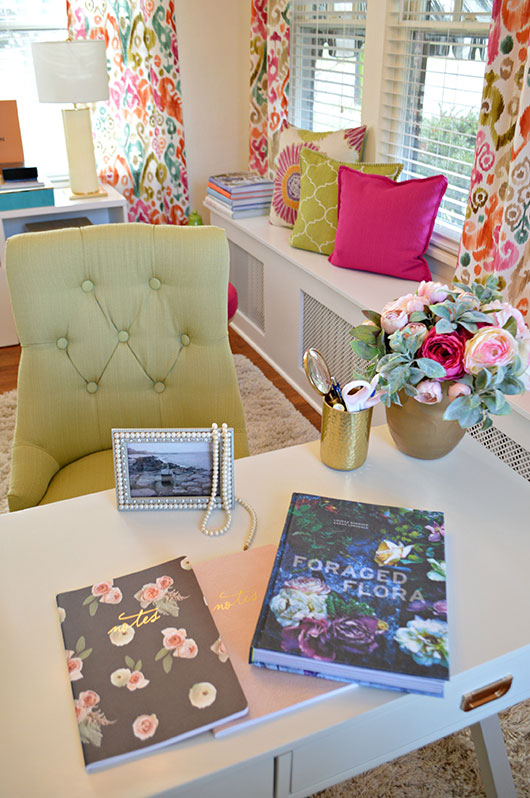 Lighting
Make sure your office has plenty of light. Often times you'll need more than one light source. Invest in pendant light overhead to compliment or enhance your task lighting and desk lamps. This extra illumination not only adds function, it adds extra style to your office.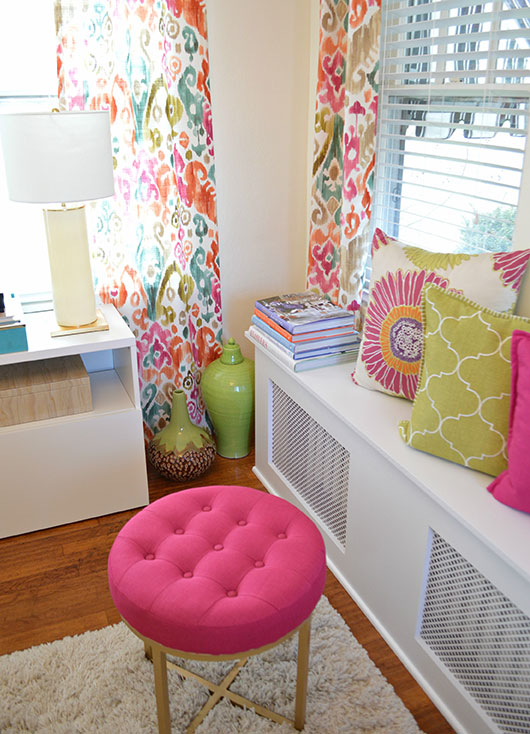 Make it Personal
Give your office a personal touch by displaying a few favorite photos or pretty decorative accessories. Surround yourself with the things that stimulate your creativity and mind.  It should feel comfortable and enjoyable.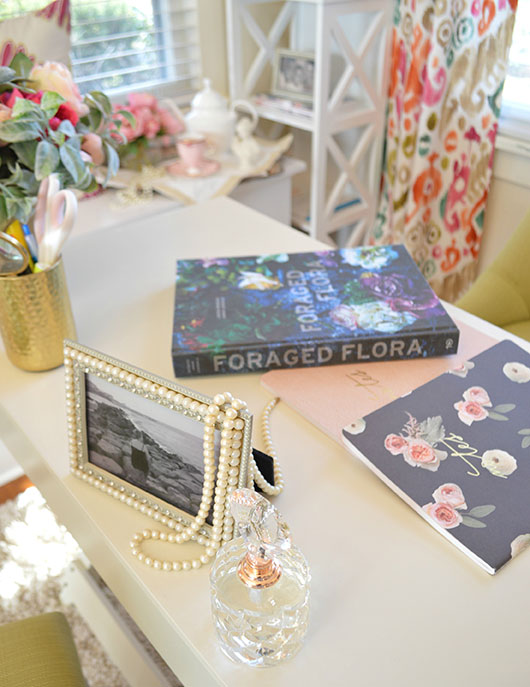 Janet Collazo shares tips for entertaining, home styling and cooking at her blog, Rosemary & Thyme. Stop by for more inspiration with a floral, vintage twist!
Looking for more home office inspiration? Check out this post on inspiring clutter free workspaces. 
Of course, don't forget to follow us on Instagram, Facebook and Pinterest to get your daily dose of cottage inspiration!