If you're more a fan of flea-markets than shopping malls, you know that fall style doesn't always come from a catalog. Designer Kay Ellen Hammar knows that capturing the warmth of nostalgia is often the best way to make a home feel cozy and inviting for the season. "I love adding special memory pieces that belonged to my family from years ago … treasured things my kids made when they were young or finding a new flea market [treasure] to be part of a refreshed fall display," she says. This year she took a sweet and subtle approach to updating her home for fall with vintage-style fall decorating ideas. Here are our favorite looks and Kay Ellen's tips for making it work in your home.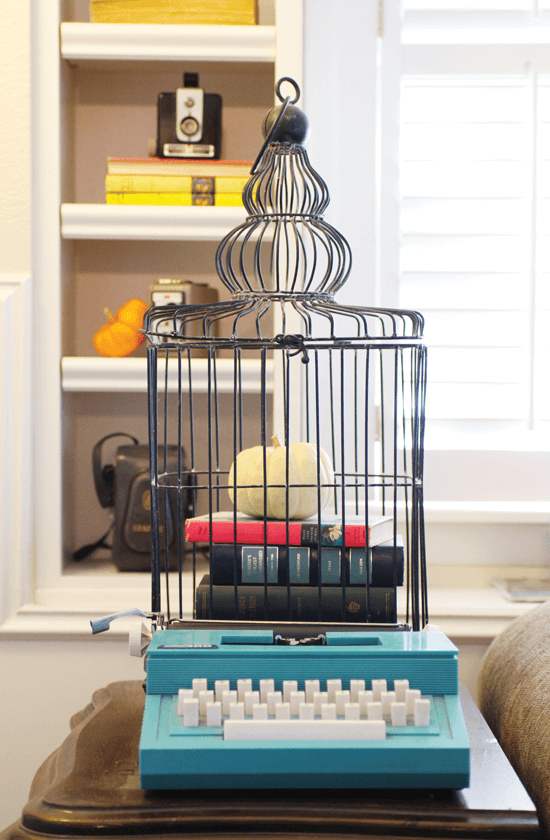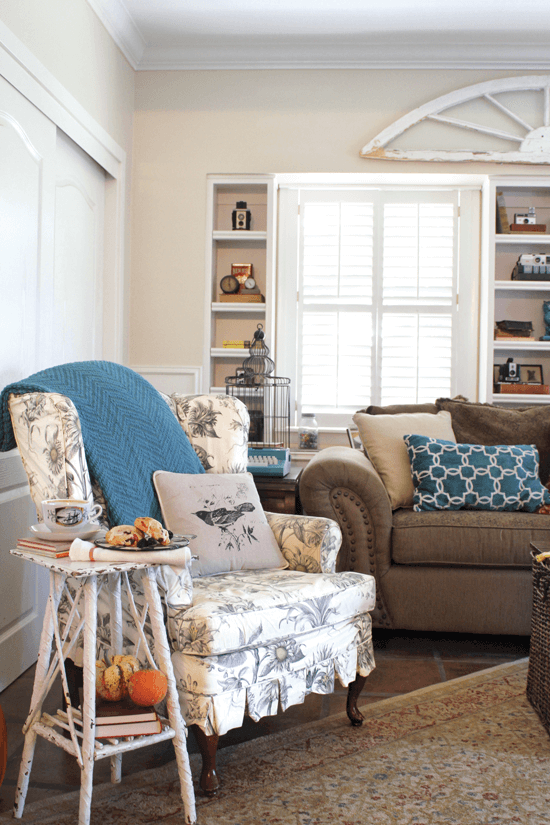 Perfect Patina
Some favorite treasures I include in my home: old silver platters, stacked vintage suitcases, a tarnished pitcher that came from my grandparents, a pretty tray artfully arranged with fall items. I also enjoy pulling out fall-feeling blankets, throws and pillows that have been tucked away during the summer.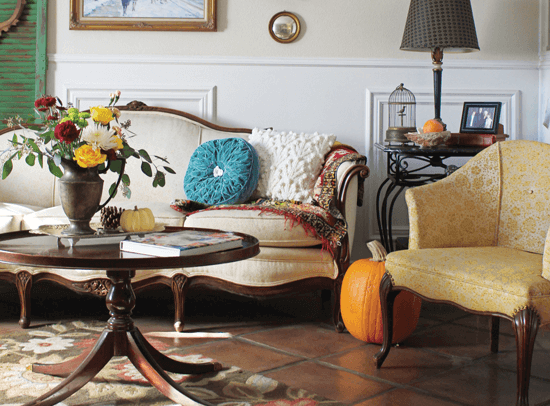 Frame a Setting
Find a great focal point to set up a creative display. For example, this could be your porch, entryway, fireplace or the dining table. Then look for a few seasonal colors to add with pumpkins or fall flowers.
Instant Makeover
If I had 5 minutes to design something quick, I would go out in my yard and cut fresh sprigs from the eucalyptus tree and add small branches from the pepper tree. If any roses were blooming I would cut and add them together to make a fall arrangement in a vase or a water pitcher. If I were lucky and I had gone to the market the day before, I would grab apples out of the kitchen and put them in a bowl as a centerpiece. These natural elements are a perfect complement to vintage-style fall decorating ideas.
Layer it Up
Think of old frames and architectural pieces as places to perch a pumpkin or squash. Thread in a few fall branches and you have a rich textural display.
Reimagine Your Displays
Look to your bookshelves, cabinets and display cases with an eye toward tucking in little seasonal surprises. When fall begins, I try to purchase pumpkins from the discount stores, farmers' markets and local pumpkin patches early. I like to buy small, medium and large pumpkins in different colors and shapes. If you are careful and keep pumpkins out of the direct sun, they will last for several weeks.
Looking for more vintage-style fall decorating ideas? Check out this tour of a dark and cozy Michigan cottage or this one all about a Thanksgiving inspired by family heirlooms.