A simple arrangement of fall colored flowers placed in a classic pitcher instantly creates a beautiful vignette. Autumn isn't the most typical time to display fresh flowers, with all the seasonal pumpkins and colorful fall leaves that are usually associated with the season, but I've found that using pieces from over the years of collecting vintage pitchers makes quite a statement for fall. I'm sharing with you some of my favorite pitchers and a few different ways to create a lovely vignette for fall or any time of year.
Our Favorites
Collect what you love and what catches your eye. White pitchers in varying shapes and sizes are the easiest and most rewarding items to have on hand. They'll look great with any color flower, in any room and during anytime of the year. I especially love to use a few white pitchers of different sizes together to form a larger grouping.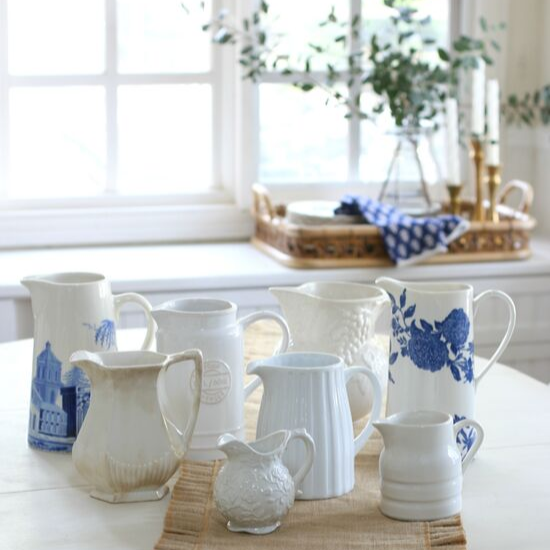 Expanding Our Collection
Pitchers with interesting silhouettes are in endless supply. Ironstone examples are truly timeless, while white embossed patterns offer a more whimsical look. Some collectors only look for white pitchers, while others shop for hand-painted versions. When I spot a pitcher that catches my attention, I stop and think about how I would use it and if it would enhance my collection.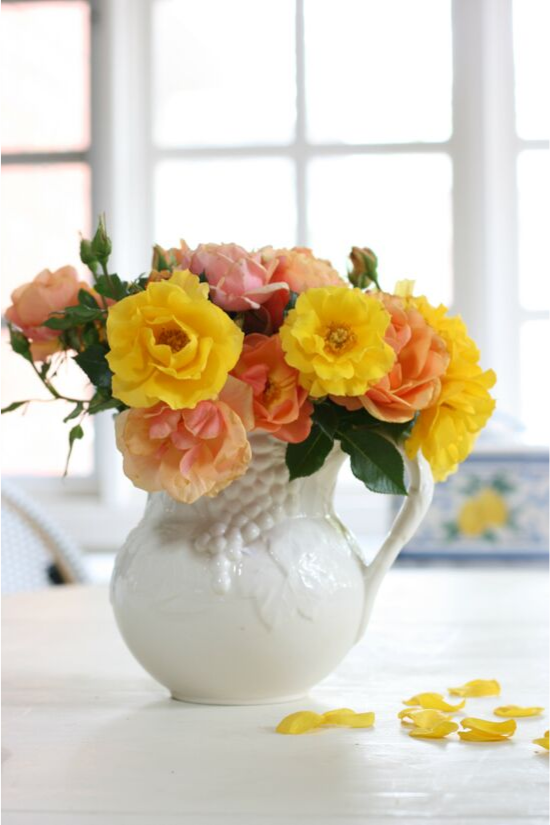 New Versus Vintage
The best news about collecting vintage pitchers is how readily available they are. I've found some of my favorites at thrift stores for only a few dollars. Home goods stores also have a fabulous assortment of pitchers, so shop for what attracts you whether it's vintage or not.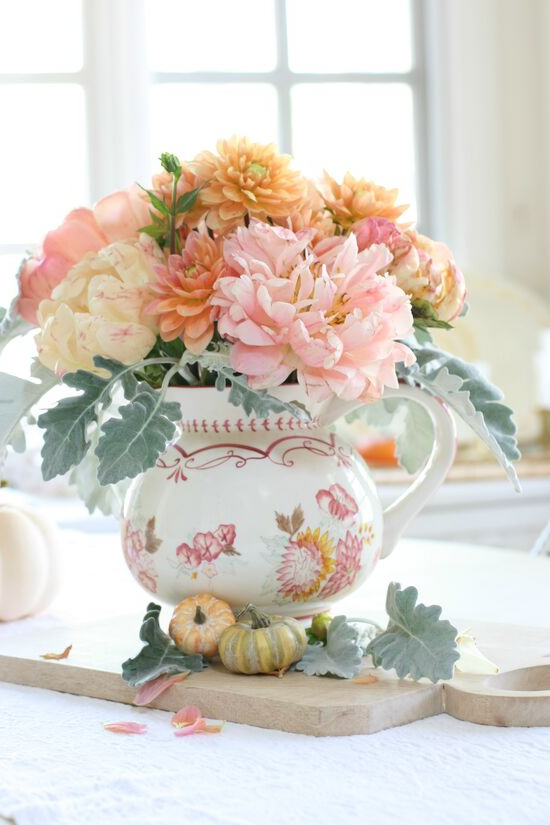 Collecting Vintage Pitchers: Shapes and Colors
The shape of the handle and the proportions of the piece is the first thing I look for when considering a new piece for my collection. The handle after all is what makes it a pitcher, so look for ones that are gracefully designed and not oversized. The majority of my collection of pitchers is white, but that doesn't stop me from acquiring pretty blue and white ones and delicately hand-painted examples in other colors.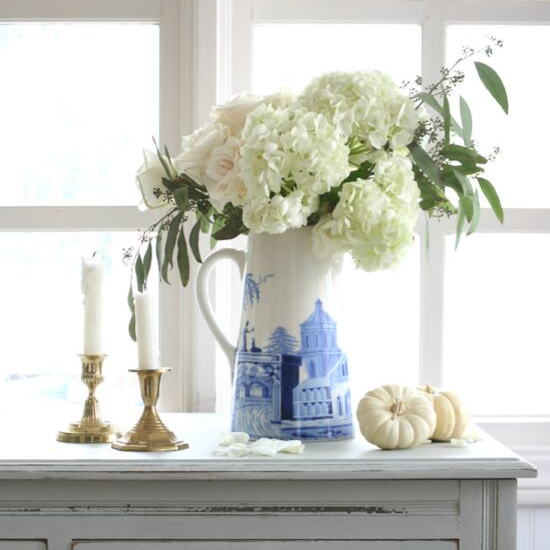 Creative Uses
Of course dispensing liquids is the most obvious use for pitchers, but in my household, their primary use is to make my flowers look beautiful. And, I'll let you in on a little secret… the best part about arranging flowers in a pitcher is that you don't have to worry about seeing the unattractive stems under water. The trick is to arrange them together in your hand, one flower at a time, and then trim the bottom of the stems evenly. Plunk them into your pitcher, and you're all set!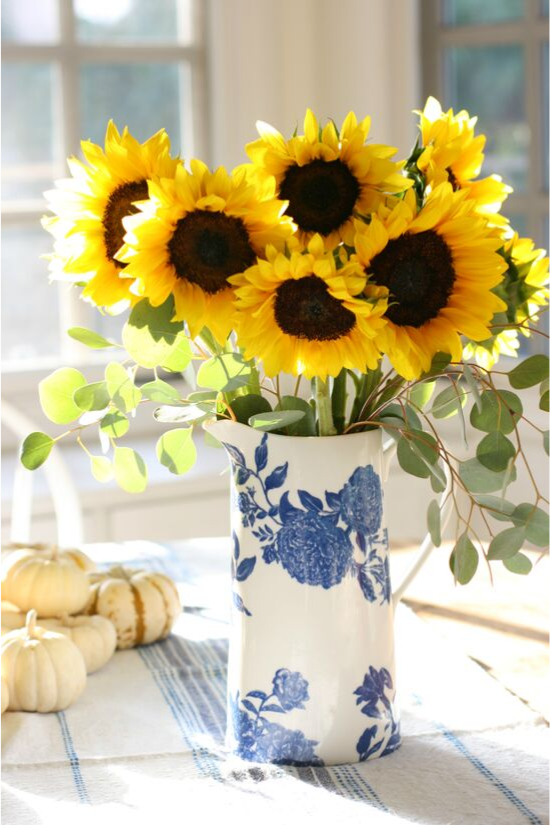 Pretty Any Time of Year
You'll find that a pitcher collection looks amazing displayed on open shelving or in your dining room hutch. When on open display, you'll have immediate access to one of your favorites when you happen to come home with a bouquet from the market or come in from the garden with freshly cut flowers. Not only is collecting vintage pitchers fun, it's also very interactive in everyday life!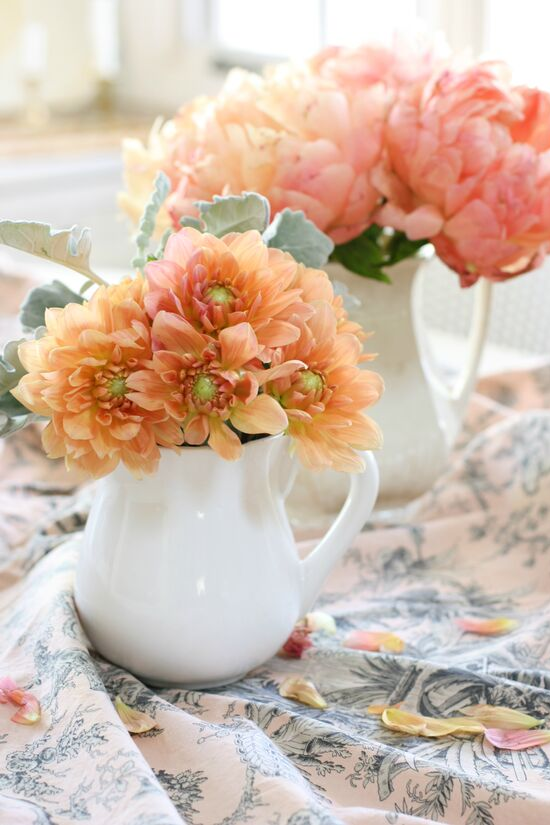 Creating beautiful tablescapes is one of Fabiana's many talents and passions. She regularly shares her delicious recipes on her blog, Ciao! Newport Beach and on Instagram.
Looking for more lovely inspo? Be sure to check out Fabiana's ideas for a French Country Mother's Day Brunch.
Of course, don't forget to follow us on Instagram, Facebook and Pinterest to get your daily dose of cottage inspiration!